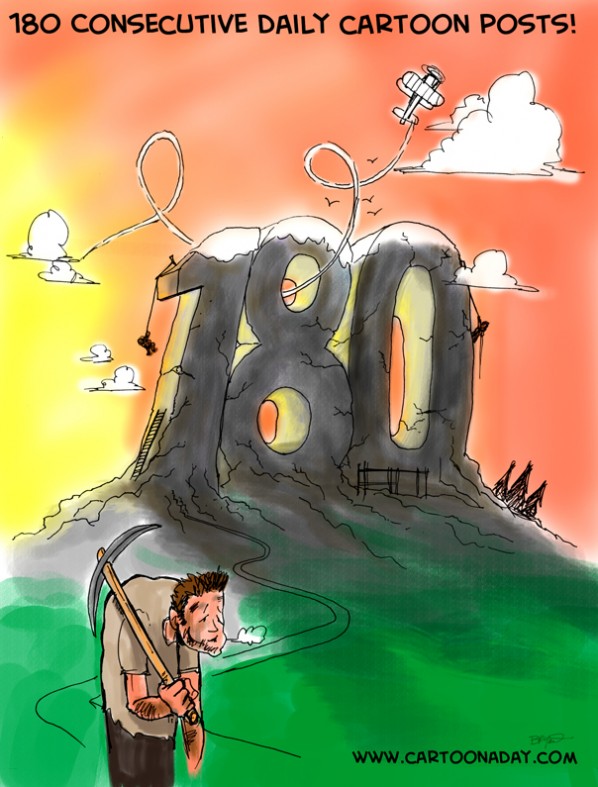 180 Cartoon posts!
Happy 6 Month Anniversary to me!
Yes, it's been a long road. I set out to create a completely custom, unique, creative and original cartoon every single day. I do this for free, and without any real payment. The ad dollars generated here amount to almost nothing. I wake up in the morning thinking about Cartoon A Day, and fall asleep at 3:00 am thinking about Cartoon A Day. I work a daily, full-timer job as a web designer and it has nothing to do with cartooning.
So Why do I do it?
Because I can. Because I love illustrating, painting, cartooning and all of it. It's my small contribution to the world's endless supply of available content. Most web users consume content only. It's my (and people like me) job to CREATE content. And so far, all that content is free to view, download, and use. I'd like to keep it that way.

I have plans to offer Hi-resolution versions of my daily cartoons, as well as any CUSTOM art anyone wants, as well as posters, shirts and swag.
But for now, I'm patting myself on the back for five minutes over having successfully completing a major goal. Six months of cartoons, ranging from the minimum of an hour all the way up to 20+ hours per piece. I'm estimating this site reflects easily over 1000 hours of effort. The only reward so far is your kind words, and knowledge and satisfaction of a job well done.
See ya in the funny papers.
More Cartoons Like This:
A 1000 Foot Tall Carving of the number 180 dominates the landscape. 180 Signifies the number of consecutive posts on CartoonADay.com
Inspiration:

My 180 Days of Posts Milestone
Time:

1,000 Manhours