By Bryant Arnold. Published: Monday, Oct 15th. Posted in: Animal Cartoons, Brush Pen, Children's Book Illustrations, Collage Art, Conceptual Artwork, Digital Painting, Figure Drawing, Mixed Medium, Painterly Illustrations, Pen and Ink Cartoons, Watercolor Paintings.
Foxy Family Watercolor
Fox family Foto day!

A YEAR AGO...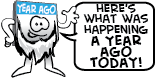 Cartoon A Day
is your DAILY source for FREE cartoons daily. Whether its a funny cartoon, office cartoon or political cartoon, I created it for you to share and enjoy. Every day a cartoon is 100% unique, custom, and FREE. I also tweet during the day.
MOST RECENT CARTOONS AND WORKSHOPS