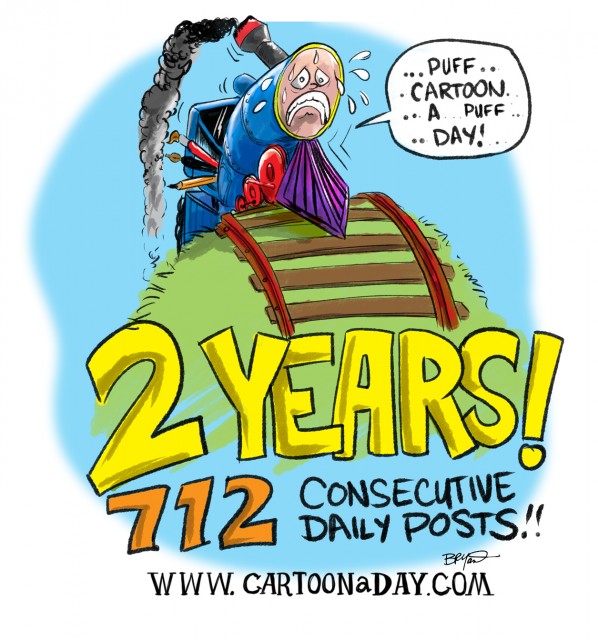 2 Years of Daily Cartoons and Never Missed A Day Cartoon
I guess you could call Cartoonaday.com the Little Engine That Could. TODAY marks the 2 year anniversary of Cartoon a Day… a project I started and never really believed I could handle. For those who don't know, or the skeptics, CAD (cartoonaday.com to those-in-the-know) is a website blog I draw a brand new-free, daily cartoon EVERY SINGLE DAY of the year, without fail. So far, for 2 years straight (thats 712 days) I have not missed drawing and posting a new cartoon a day.  As far as I can tell, many other sites have tried to post every day, and few have tried posting a cartoon a day, but they all ultimately fail. Again, as far as I can tell, this is an Internet FIRST. No one has ever accomplished a free content cartoon every day of the year, for even one year, let alone 2.
And yes, it's all the work of a SINGLE GUY- Me- Bryant Arnold. No one has ever contributed a cartoon in the 2 year existence of CAD.
How long will CAD maintain this blistering Carton pace, you ask?  i guess you'll have to stay tuned to find out.
So I guess what I'm saying is…yay, me! (gratuitous pats on the back) See you tomorrow in the funny papers!
More Cartoons Like This:
An honorary cartoon commemorating 2 years of daily cartoon posts. Never before has anyone done this on the internet.