Stricter Mortgage Rules Mean Leaner Economy- Cartoon
"A college graduate, TOP in my class, and finding a JOB is harder the WINNING THE LOTTERY!"
You think the future seems bleak now…just wait until you apply for a HOME LOAN!"
Trying to recover from the biggest housing crisis since the Great Depression, Mortgage companies and banks are really sticking it to you, the homeowner. Folks who can afford to do so are buying homes in cash rather than deal with the nightmare paperwork as a result of our past mortgage mistakes. During the housing boom, leading to the fall of the banks, anyone anywhere in America could qualify to buy a home, or Tow, or three… Since the economy and job situation went south, those property investors no longer could carry all that mortgage paper, defaulting on many if not all homes.
And viola: Getting approved now for a home loan is now one of, if not the worst, forms of bureaucratic torture yet devised.
And for the Editorial / Political cartoon Purists, a black and white Jobs / Economy cartoon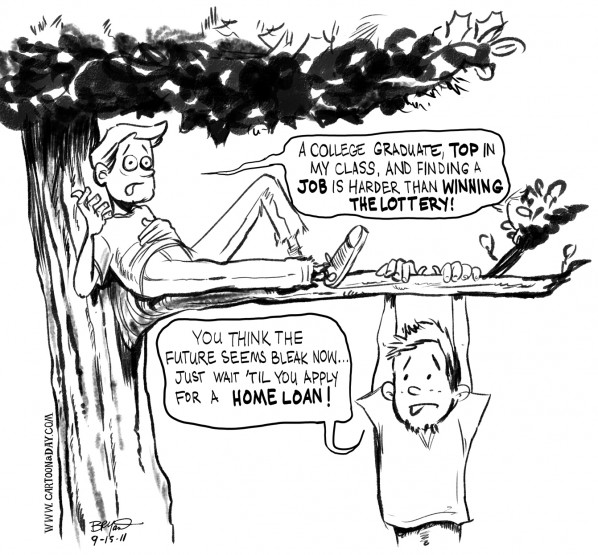 No related posts.