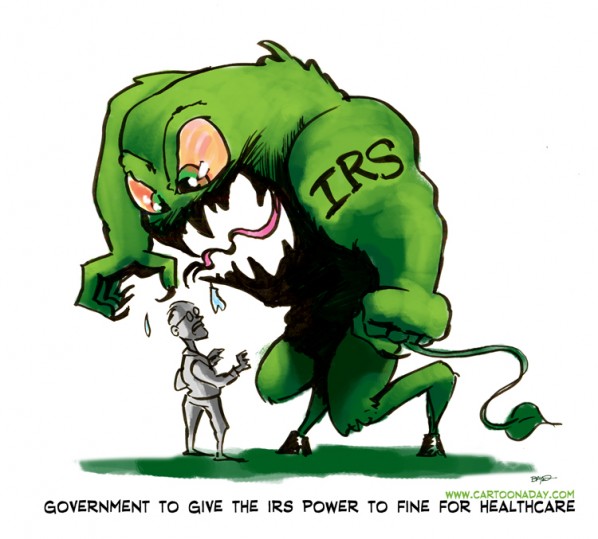 Government to Give the IRS Power to Fine for Healthcare
As if we didn't pay enough taxes, looks like the IRS can soon start  withholding your income tax return if you aren't paying for healthcare. I pasted a snippet from USA Today on the subject and you can read the whole story with the link.
Starting in 2014, the agency will have another task: making sure all Americans have health insurance. Under the law, Americans who can afford health insurance but refuse to buy it will face a fine of up to $695 or 2.5% of their income, whichever is higher. More than 4 million Americans could be subject to penalties of up to $1,000 by 2016 if they fail to obtain health insurance, the Congressional Budget Office said last week.
http://www.usatoday.com/money/perfi/insurance/2010-04-29-healthirs28_CV_N.htm
More Cartoons Like This:
A green monster IRS is hovering over a small man. The man looks scared of the monster.
Inspiration:

Inspired by news of more taxation by the IRS.
Time:

15 Minutes