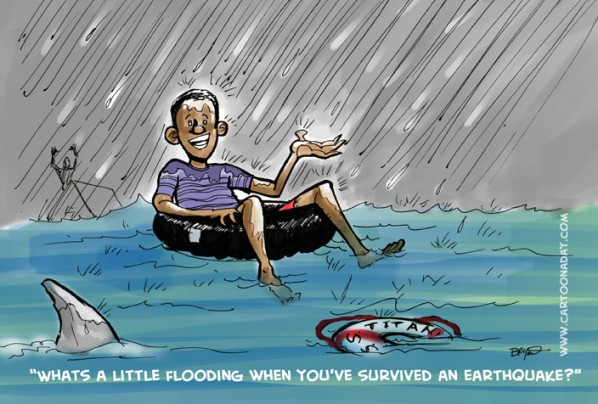 "What's a little flooding when you've survived an earthquake?"
Things are going from bad to worse for Haiti Earthquake Survivors. It seems the rainy season for Haiti is looming over the horizon. The first of fifty thousand survivors are being relocated.  I'm crossing my fingers and hoping they don't have to suffer further tragedy.
You can read the whole story over at USA Today here. http://www.usatoday.com/news/world/2010-04-10-haiti-camps-rain_N.htm?loc=interstitialskip
More Cartoons Like This:
A Haiti Earthquake Survivor floats on flood waters in an inner tube. It's raining around him and a shark surfaces nearby.
Inspiration:

Inspired by news of Haiti Earthquake survivors relocating to higher ground