We've Found the God Particle
"We've found the God Particle"
This illustration was inspired by driving in the Jeep in the rain, with no top. The sun streaming shafts of light through a small opening in the clouds, made me contemplate the beauty of creation. Also there's been a lot of noise lately about the fusion of creationism and the concept of God creating the universe. The 'God Particle', in layman's terms, is a type of particle that can exist in one location in multiple quantum states. The 'God Particle' has no spin,  no charge and no color. The God Particle (Higgs Boson) was only discovered using the most powerful particle accelerator in existence, at CERN in Switzerland.
It's called the 'God Particle' because it's central to our final understanding of the structure of matter, and particle physics.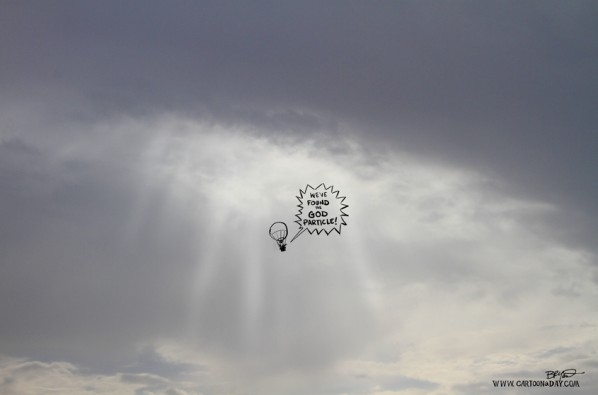 More Cartoons Like This:
A Rainy day in Las Vegas photograph is cartoon manipulated. Balloonists discover the God Particle.