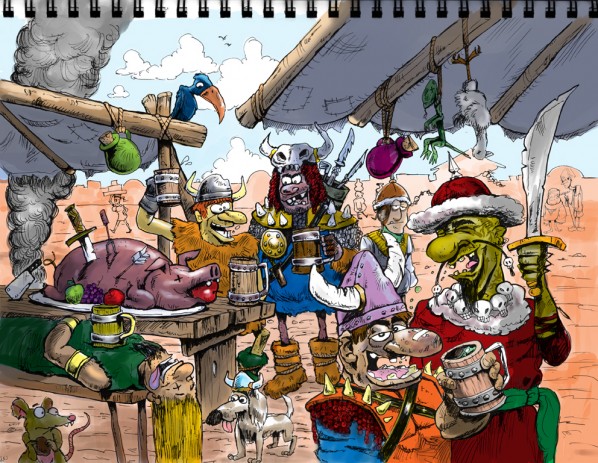 The Barbarian City Cartoon
Ever feel a little barbaric? Ever feel like you're living in the middle ages? Even if you don't, market scenes like this one are fun to look at and even more fun to draw. This is really a doodle turned into madness. At the end of a 2 hour stint with the sketchbook, I had something worth scanning. I had the wherewithal to snap a couple progress pics along the way.
And here are some of the barbarian city progress shots. As you can see, I am at my art table, sketching in RED pencil in my spiral bound sketchbook. Then I begin inking with a random Mont Blanc rollerball pen.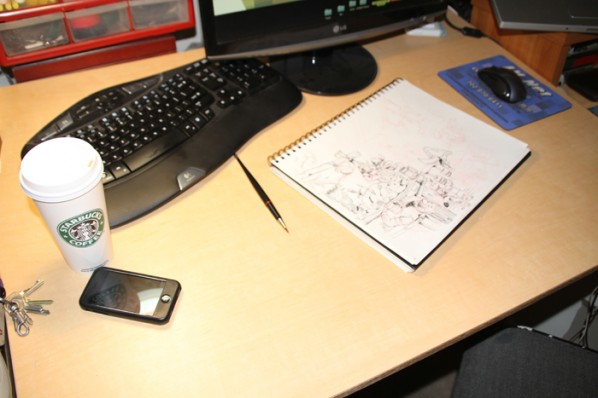 Gotta have the Starbucks and iphone nearby.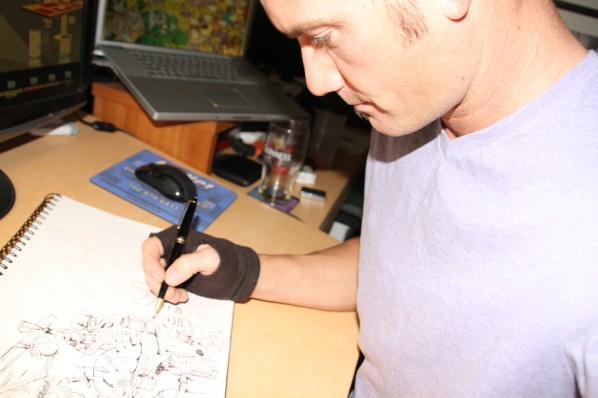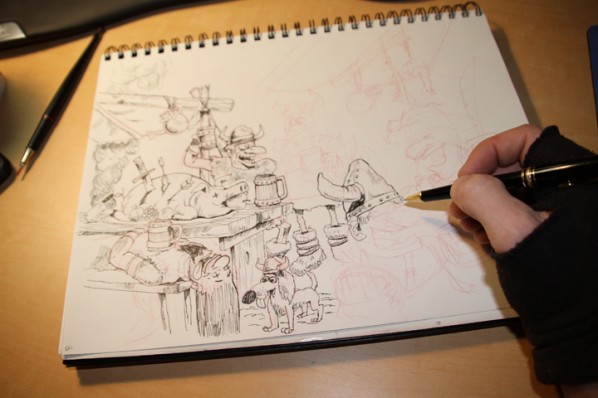 I sometimes wear a cloth glove which I've hacked the fingers off. This keeps my sometimes sweaty hand off the art and my hand glides smoothly without smearing anything.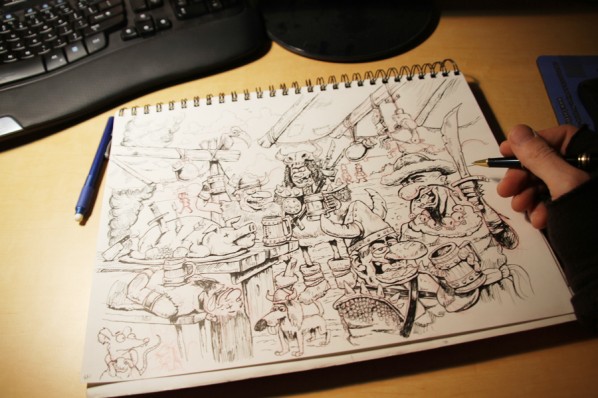 Here's the final, scanned lineart.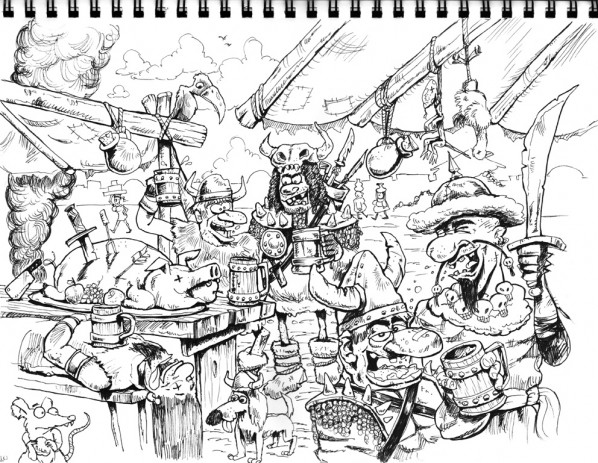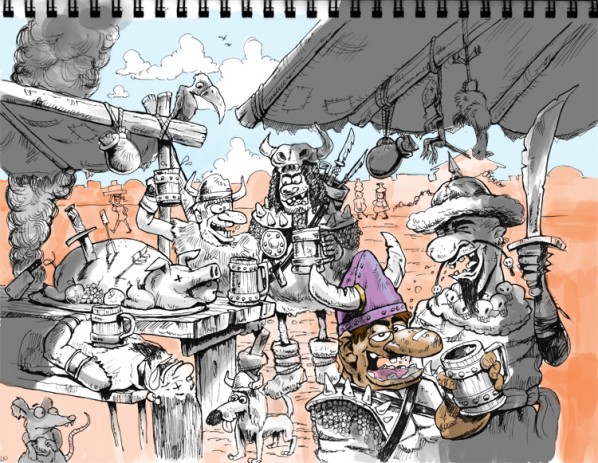 For those who haven't ever read my process, I'll summarize in this tiny nutshell: 1). Inked lineart is scanned. In this case, in 2 sections and stitched together by hand in Photoshop.
2). New layer> MULTIPLY  …Now you can grab your wacom tablet and freely paint onto any part of the art without destroying  or covering your black lineart. These days, my last 200+ posts have a multiply layer.
3). I generally use the same brush, size is fixed except when I dial it up or down, hardness is set to PEN PRESSURE. Here's a screenshot: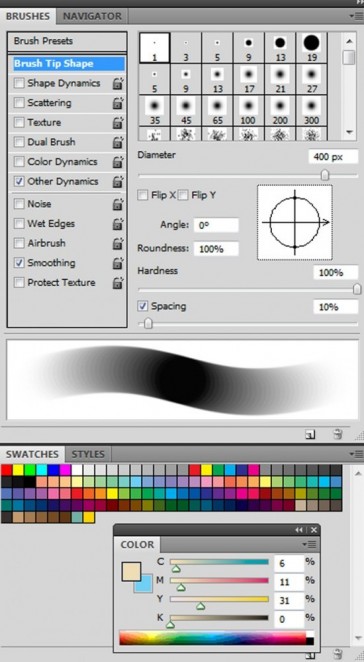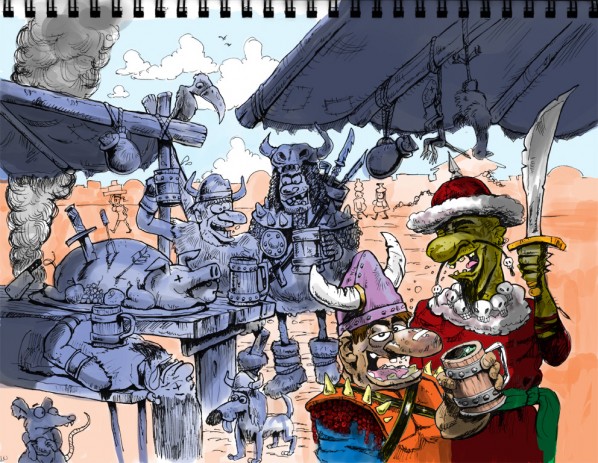 4). New layer> MULTIPLY. Set opacity to about 40-60% and paint the shadows with black or dark gray.  Keep coloring and you're done!
At the last minute I decided to fill one of the background holes with more barbarians, so here he is, see if you can locate them.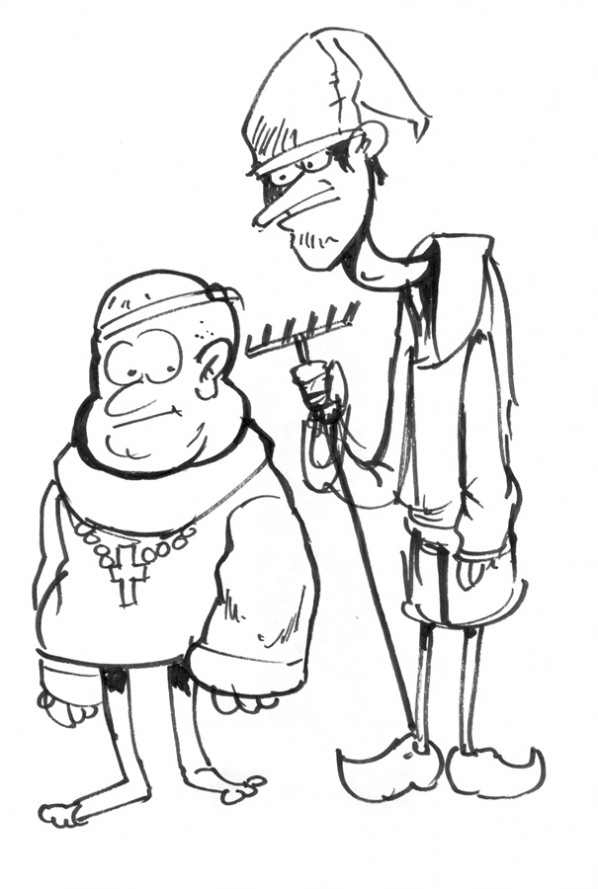 And once again, the final barbarian city cartoon: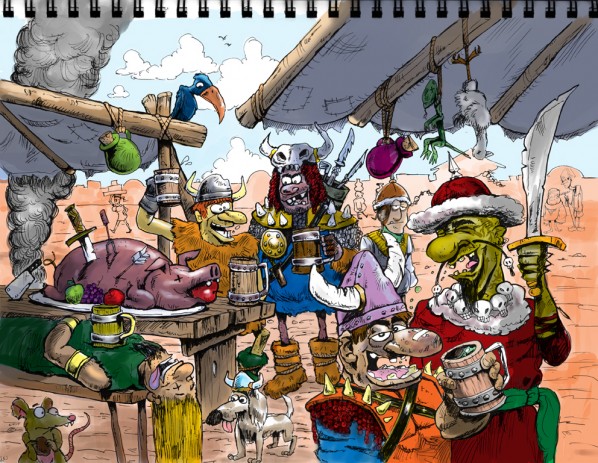 More Cartoons Like This:
A crowded medieval marketplace, filled with drinking and drunk barbarians. They seem happy and well mannered.
Inspiration:

Inspired by the extreme lack of barbarian marketplaces in my neighborhood.
Time:

2Hours