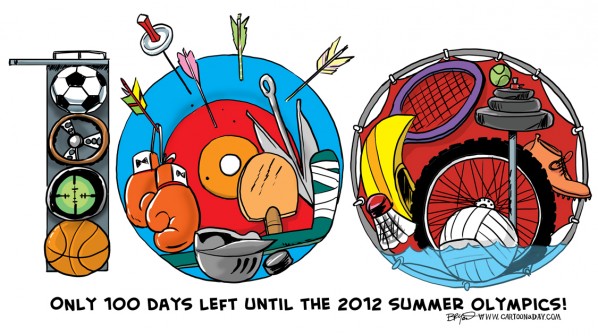 Summer Olympics 2012 Cartoon
Only 100 Days left until the 2012 Summer Olympics!
Time to get your sports on. Can you identify all the sporting elements in today's Summer Olympics Cartoon?
Looks for: Soccer (Football), Driving, Shooting, Archery, Basketball, Volleyball, Swimming, Badminton, Track, Weight lifting, Trampoline (Gymnastics) Hockey, Sailing, Diving, Boxing, Ping Pong (Table Tennis), Tennis, Kayak, Biking, Equestrian, and Fencing.
More Cartoons Like This:
A sports cartoon about the upcoming 2012 Summer Olympics held in England. The Summer Olympics start July 27, 2012.