IRS Tax Forms Lost Ark Warehouse
"5 Million Square Feet for Tax Returns?"
"Yep! And this is just Rhode Island!"
Ever wonder where your IRS Tax Return form Paperwork goes? Without doing any research I imagine (at least in the old days) giant warehouses would be filled to overflowing with years and years worth of individual and corporate income tax forms. Where does all that paperwork go? I would suppose in this modern age it's photographed, scanned and digitized, then recycled into pulp for next year's forms.
In this cartoon illustration, I borrowed inspiration from the last scene in The Raiders of the Lost Ark, where "Top MEN" take care of filing away the Government's precious secrets.
And for RAIDERS fans, here's a duplicate scene sans the talking rats.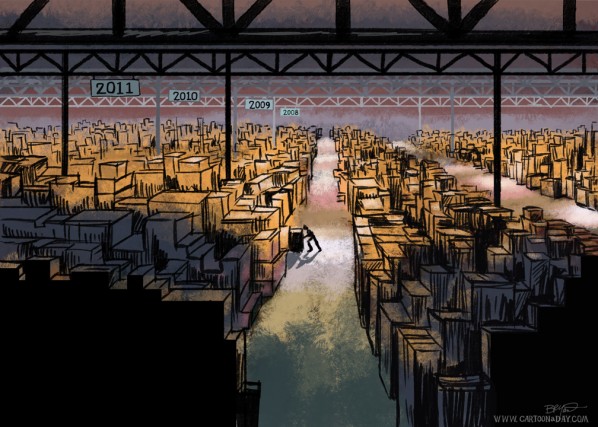 More Cartoons Like This:
A cartoon parody of the Raiders of the Lost Ark Warehouse holds the IRS income tax return forms. This cartoon warehouse is immense.