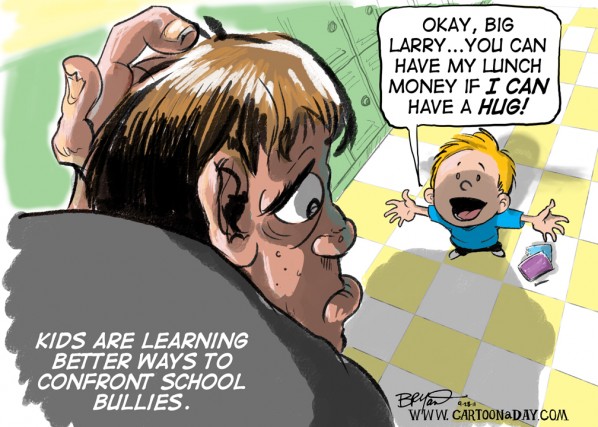 Students Learn to Deal with School Bullies – Cartoon
"Okay, Big Larry…you can have my lunch money if I CAN have a HUG!"
More and more schools are implementing "Stop Bullying" programs , raising awareness and understanding. School bullies have been a problem sine time immemorial, so it will be interesting to learn how psychologists and other experts suggest children deal with bullies. I think the standar practice is to run away and get an adult. Running away isn't a bad start, but I worry it sets a poor precedent in the mind of both children.
Here's how I relate: When Bullying happen to me, as a child, my Father told me this; " If he's bigger than you (and he was held back 2 years) pick up a rock. If you can find one, pick up a brick. When in doubt-fight. To make a long story short, the school found out about our 'rumble' and my brick. The bully got a black eye and I got a broken arm. In the end we became friends, although NOT close friends. It turned out he was insecure about his lower than average intelligence, and he had a weight problem. . . and he was abused at home. Later I felt more upset about hurting him, and being driven to a fight, than my own injury. I never fought in school again.
More Cartoons Like This:
A cute cartoon about school bullies and a small boy standing up to the bully. Bullies in school is a serious problem.