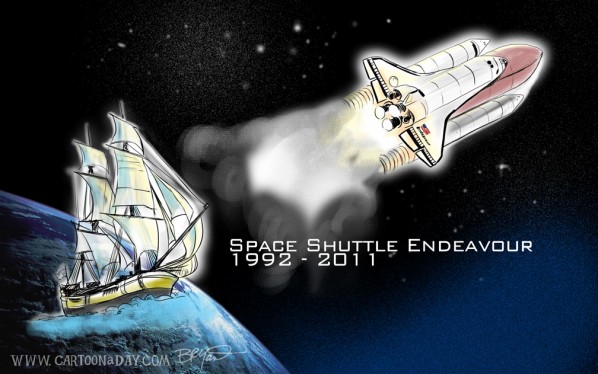 Shuttle Endeavour Last Liftoff
The Kennedy Space Center in Florida will host the final launch of the second to the last operational Space Shuttle: Endeavour. The endeavour has put in a lot of service and miles. Here's some quick facts:
Edeavour, named after the HMS Endeavour captained by the famous James Cook (Cook Islands) in the 17000's
Today is the Endeavour's 25th Mission into outer space.
Endeavour cost $2.2 Billion to construct
Endeavour was the first Shuttle to repair the Hubble Telescope.
More Cartoons Like This:
Inspiration:

A Mixed medium illustration featuring the Space Shuttle Endeavour and it's seaworthy counterpart.