Slightly cleaner version for download.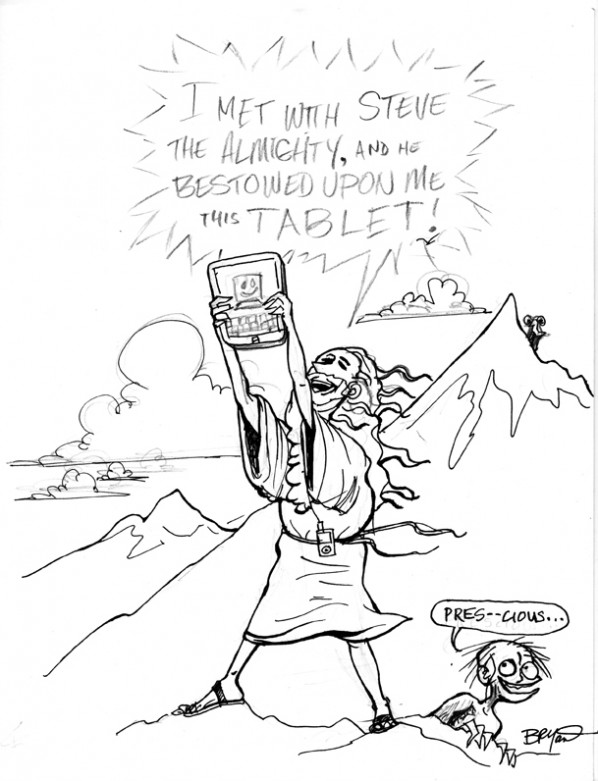 "I met with Steve Jobs the Almighty, and he bestowed upon me this TABLET!"
Moses iPad Tablet Cartoon
See my FAVORITE cartoon on iPads here.
Okay, this cartoon is still in sketch form(and will stay there). I wasn't really feeling the cartoon, but I figured I show you what happens to bad illustrations anyway. They don't get very far. It depicts Moses coming down from the mountain with the long-awaited, well-hyped Apple iPad Tablet. I'm not exactly sure why gollum is in the background, except I easily picture him scrambling across rocky mountainsides.  Anyhoo…there you have it. The top cartoon is cleaned up a bit with a font added so you can actually read it.
-Bryant
P.s. Did you notice Moses is wearing an iPod?
ipad tablet cartoon
More Cartoons Like This:
Describing what it may mean to some ipad fans of the long awaited unveiling of the ipad.
Inspiration:

Moses, the Apple iPad Tablet, Steve Jobs as God, and gollum. Now doesn't everyone want and ipad?
Time:

15 minutes