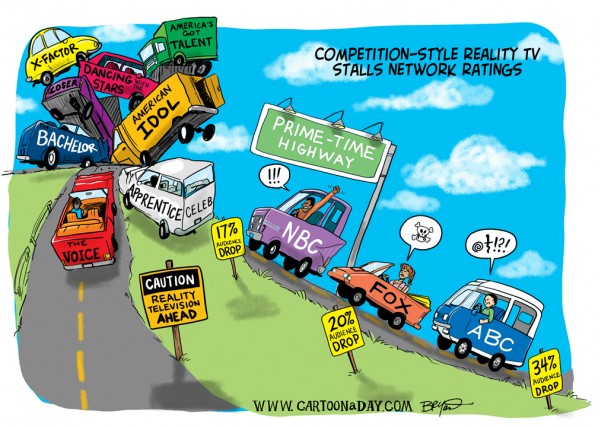 Competition Style Reality TV Stalls Ratings
A recent study of ABC, NBC and FOX TV ratings show a sharp and steady decline in viewership of competition-style reality tv. It seems there is a glut of singing and dancing competition shows ( The Voice, American Idol, Dancing with the Stars, Celebrity Apprentice, America's Got Talent, X-Factor, the Bachelor, Biggest Loser, and more). For myself, I've never watched more than 10 minutes of any of these shows at a time, proving the target demographic is YOUNG adult viewers.
As the reality tv cartoon shows…
ABC's Dancing With the Stars viewership  dropped 34% from last year.
FOX's American Idol dropped 20% from last year.
NBC's  The Voice dropped 17% from last year.
Read the Full USA Today story here.
More Cartoons Like This:
A cartoon editorial illustration featuring the topic of TV Reality Shows centered around competition. Prime-Time tv is grid-locked with reality tv.