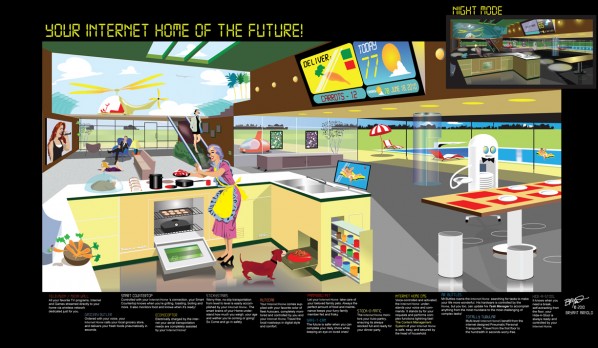 The Retro Futurism house of the FUTURE!!!!
A pet project of mine, something called retro futurism in certain circles. I love researching old advertisements of the 40's, 50's 60's and so on. Back then, the future seemed so clean, sleek efficient and shiny. Everyone's attitude about technology was just blossoming, and as a country we embraced stainless steel house-helpers.
It's also a practice project of mine, having illustrated the entire image (s) in Adobe Illustrator. For those "not in the know", it's almost exclusively a vector-based illustration application. It uses varying degrees of straight lines to render with. It's quite a bit more powerful than I'm explaining, but you see the result. Subtle gradients and shading can be produced with a deft series of straight lines.
The original is 36″ wide by about 22″ tall. I'm planning on offering posters for sale soon so check back and i'll build a shopping cart for it.
Following, are enlarged pieces of "Bryant's Retro Futurism House of the Future".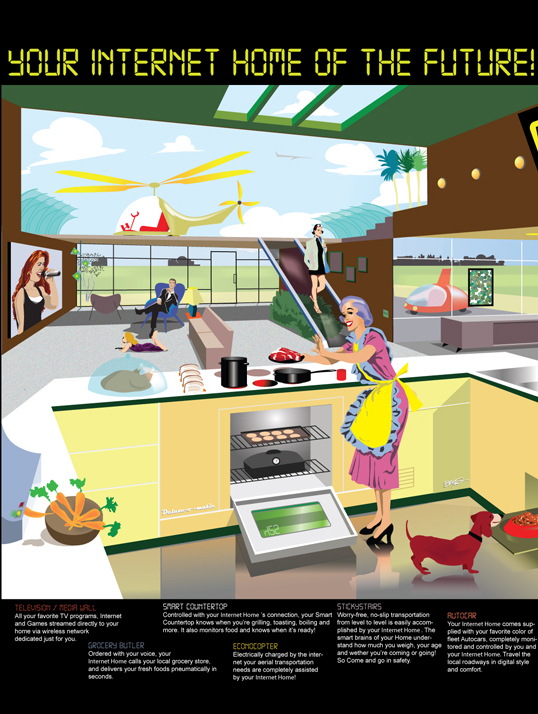 Futurehouse House of the Future Part 1 (Daytime)
Some samples of the text below:
Grocery Butler: Ordered with your voice, your Internet Home calls your local grocery store, and delivers your fresh foods pneumatically in seconds.
Smart Countertop: Controlled with your Internet Home 's connection, your Smart Countertop knows when you're grilling, toasting, boiling and more. It also monitors food and knows when it's ready!
Econocopter: Electrically charged by the internet your aerial transportation needs are completely assisted by your Internet Home!
Pampered Pet:Let your Internet Home  take care of your beloved family pets. Always the perfect amount of food and maintenance keeps your furry family member fed and frisky.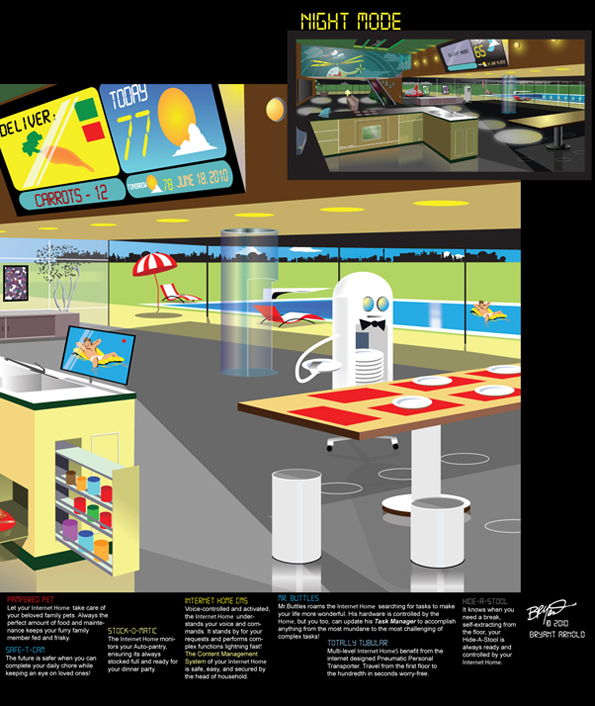 Futurehouse House of the Future Part 2 (Daytime)
STOCK-o-Matic: The Internet Home monitors your Auto-pantry, ensuring its always stocked full and ready for your dinner party.
Internet Home CMS: Voice-controlled and activated, the Internet Home  understands your voice and commands. It stands by for your requests and performs complex functions lightning fast! The Content Management System of your Internet Home is safe, easy, and secured by the head of household.
Mr. Buttles: Mr.Buttles roams the Internet Home  searching for tasks to make your life more wonderful. His hardware is controlled by the Home, but you too, can update his Task Manager to accomplish anything from the most mundane to the most challenging of complex tasks!
Futurehouse House of the Future Full (Daytime)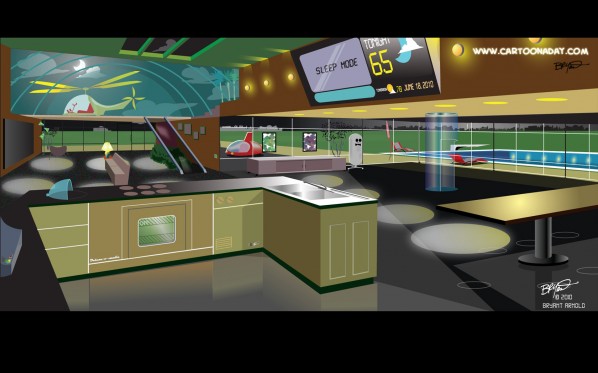 Retro Futurism House of the Future  (Nighttime)
In this version, actually an afterthought, I removed all traces of the family and the hustle bustle of daily living. The nightime automatic lights are turned on. The sliding glass walls and doors have closed for the night. The skydome open to the daytime sky and which provides access to the Econo-Copter is shut. The CMS video monitor reflects the outside weather and temperature.
I really enjoyed this piece and will be producing as many more as time allows.
Enjoy!
-Bryant
More Cartoons Like This:
A version of the Future House, House of the Future by artist Bryant Arnold. Shown are various household helpful amenities. Retro Futurism
Inspiration:

Inspired by Retro Futurism, homes of the future, robot helpers and a version of the idyllic nuclear family.
Process:

Adobe Illustrator, drawn completely in vector, occasional use of Wacom tablet.