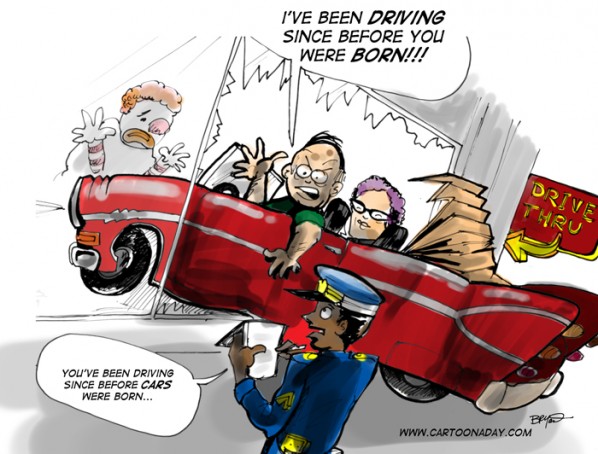 Baby Boomer Bad Driving Cartoon
Are you concerned about your Mom or Dad;s driving ability? If so, they're most likely part of the Baby Boomer Generation (Born during the post WWII baby boom).  Researchers say that the number of drivers over the age of 70 is growing, and by 2040, is expected to be one in five. In 2000, only one in Ten drivers were over the age of 70.
Research says 70+ age driver have lower crash rates, yes…but much higher fatal crash rates per mile traveled. Which means they tend to drive much fewer miles (most likely to church or the grocery store) but have a similar amount of fatalities as say teens on the highway traveling 3-4 times the distance.
Is your Mom or Dad ready for alternative transportation? Maybe they'll be safer using public transportation like the city bus, or taxis. Or maybe it's as simple as an updated pair of vision lenses.You know they haven't been to the eye doctor in 20 years and probably squint at everything.
In my Grandma's case, a phone book still comes in handy, but never as a phone directory.
More Cartoons Like This:
Dad and Mom have crashed through a fast food restaurant window. A Nearby policeman writes them a ticket for being too old.