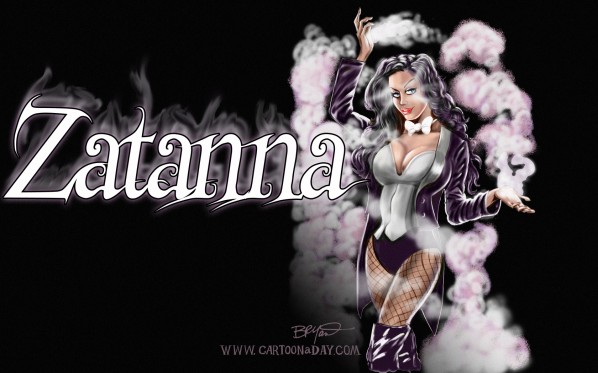 Zatanna – Sexy Mistress of Magic Superhero Cartoon Wallpaper
In honor of the San Diego Comic Con currently in full swing, today's cartoon is a super-heroine called Zatanna Zatara. Zatanna is a DC Universe comic book character who, unlike most heroes with extraordinary powers, relies on Magic. Often when comic book story lines run into a metaphorical brick wall, they pull a magical character out of their endless pockets to solve the problem and save the day. Magical heroes like Zatanna are few and far between. Zatanna was painted directly in Photoshop using the trusty MODBOOK.
CLICK the I LOVE IT DOWNLOAD to have it as your very own wallpaper.
Enjoy Comic Con you freaks! (Kidding)
More Cartoons Like This:
Inspiration:

A cartoon painting of fictional comic character Zatanna, Mistress of Magic. The Zatanna cartoon is in honor of San Diego Comic Con