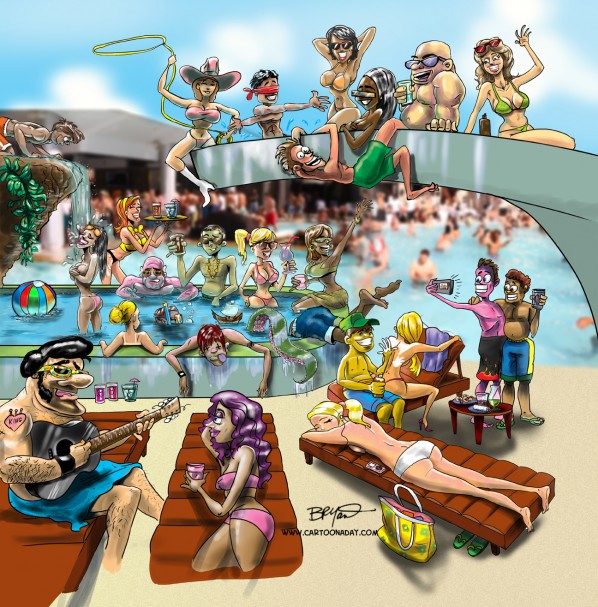 Las Vegas Pool Party
Finally done with an illustration for Las Vegas.net Magazine on Las Vegas Pool Parties. This cartoon illustrates personality examples from most any typical Las Vegas Pool scene. I worked on it a little bit each day for a week or two but it's really about a 10 hour job all told. I've included some of the Las Vegas Pool Party sketches I started with and scanned for the cartoon. At the bottom of this post is the article I wrote for the pool story.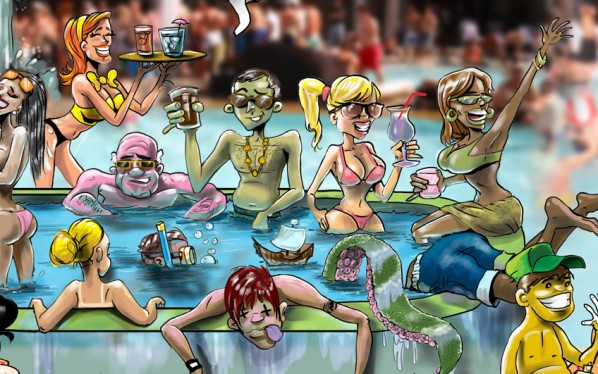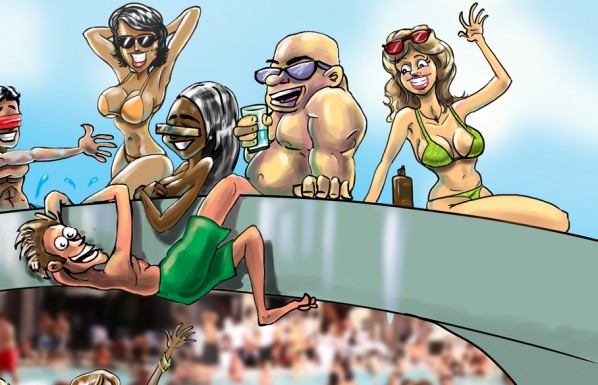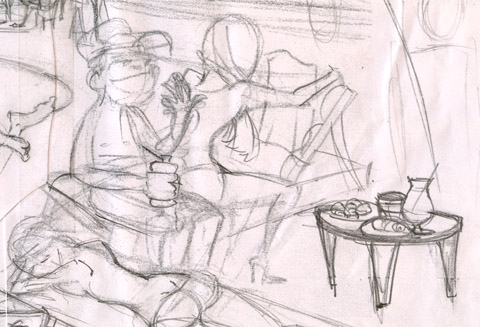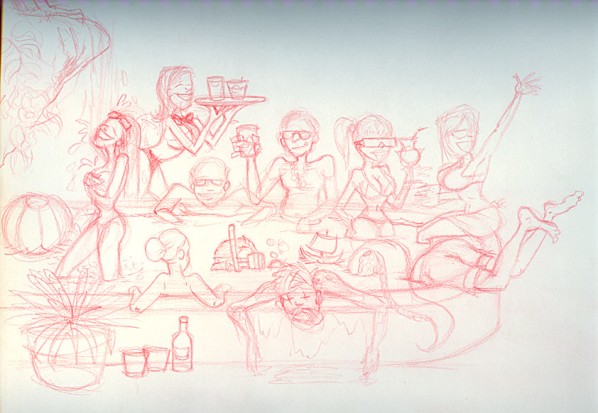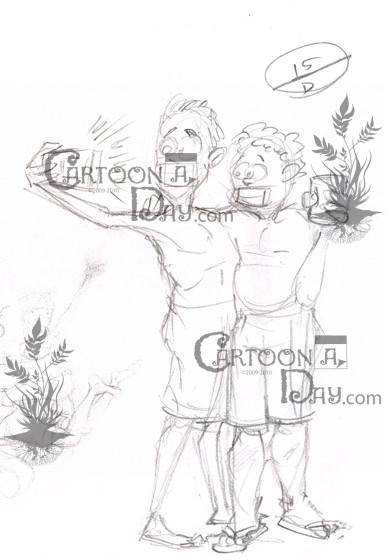 When the world thinks of Las Vegas, they conjure up images of gambling, nightlife, and grown adults misbehaving on purpose. But the sin aside, Las Vegas is synonymous with 'dry heat'. It may be a dry heat, but by anyone's definition it's dangerously hot. Summertime in Nevada reaches triple digits and is hot enough to fry and egg on one's forehead.
So how do Nevadans beat the heat? The inside scoop may be counterintuitive: go outside and get wet. Las Vegas residents love the swimming pool lifestyle to such a degree that the Las Vegas Metropolitan area is home to about 45,000 in-ground, and 10,000 above-ground pools. One in seven households owns their own backyard pool.  And a Las Vegas Hotel/Casino/Resort wouldn't be complete without the luxurious fantasy-island pool. every major casino has a pool, and a great many of them are available to guests and the general public alike.
You don't have to be a tourist to feel like you're on holiday. Local residents can get their liquid fill at any of the dozens of new, swanky and lavishly crafted casino swimming pools. Not just for tourists, hotels find that a stunning 50% of their pool patrons are extremely grateful Las Vegans. The other 50%, of course, are tourists and are overjoyed to be I the sun and ready for fun. With features such as swim-up gaming tables, in-pool drink service and cabanas nicer than many homes, what's to complain about?
For locals who've not witnessed the scene firsthand, here's what can be expected. The first impression is one of size. Whichever hotel pool you choose, upon entering it is much, much larger on the inside than imagined. But as the pool population starts to rise, deck real estate starts to dwindle alarmingly fast. If you're planning a full-day outing, arrive as early as possible and bring a bag of supplies. Make sure to bring extra towels, sunscreen and water. Be careful and courteous not to bring pool hazards like glass bottles or cans since many pools won't allow them anyway. Bring a book or two, a big hat, and a plastic bag to protect any sensitive electronics like phones and cameras. If you forget any poolside supplies, a hotel sundry shop or cabana is always nearby and ready to sell you things you absolutely can't live without as well as things you never knew you needed- at tourist prices.
Now that you've settled into a spot and scoped out the bar location and restrooms, it's time to start some serious relaxing. Before you will unfold a magical and dreamlike show of the most unique kind. Nearly every race, creed, color and body type will pass on parade for your amusement, on their individual ways to frolicking.
Everyone has come to the pool for a wide range of reasons. The biggest and most popular reason to attend a hotel pool is for the person to person interaction of nearly naked bodies. For others, it's the attraction of lazily drifting along a manmade river, or attempting to bodysurf the imagineered waves. Still others come for the sheer nothingness; the feeling of decadence that accompanies a day out under the Las Vegas sun as you're being served and pampered, all the while knowing you're not doing anything productive at all. Whether you go to see or be seen, Las Vegas hotel pools offer something for everyone.
More Cartoons Like This:
A Cartoon Scene of a Las Vegas Pool Party. The Las Vegas Pool party is full of fun, cartoon people playing and drinking in and around the pool area.
Inspiration:

Inspired by illustrating an article for a Las Vegas Pool Party