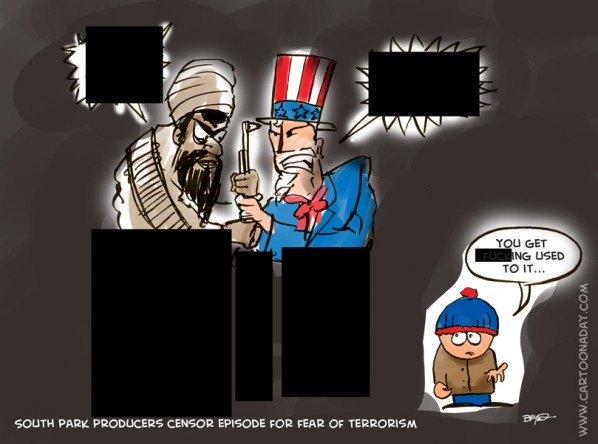 Southpark Censor Episode in Fear of Terrorism
This sucks. I'm not a huge fan of Southpark, but I am sensitive to censorship. Heaven forbid I use any 4-letter work in my blog and instantly feel the wrath of Bloggign Mothers, Churchgoers and Google's Adsense bot that just shut me down. But my woes are nothing compared to death threats against show creators by Radical Muslims. I had no idea Radival muslims even watched TV, let alone South Park. Wow, I may be missing a whole new market!
Oh No! They've killed free speech!
Anyway, here's the full poop if you're interested. http://www.usatoday.com/life/television/news/2010-04-22-south-park-censored_N.htm
More Cartoons Like This:
A political struggle seems to be happening between the US and a radical Muslim. Much of the scene is censored,as Kyle of South Park comments.
Inspiration:

Inspired by Matt and Trey of South Park, The censorship of South Park out of Fear, and radical muslims can kiss my @$$.