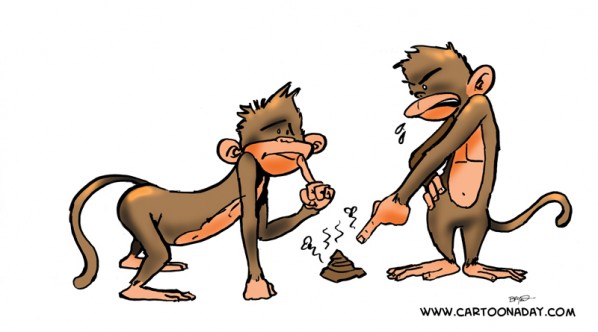 !!!!!!!!!!!!!!!!!!YOUR CAPTION HERE!!!!!!!!!!!!!!!!!!!
Okay, let's see how many of you out there are listening…it's TIME TO CONTRIBUTE Content, rather than simply CONSUMING it. I have a Cartoon Caption Contest For you.
The POSTING is open here, so submit your comments in the for of a word balloon or caption and win a PRIZE from me. I will create a doodle of your choice and send the original if you wish. Here's an example:
Monkey Standing: "The the hell kind of Crap is this?"
Caption: Communications breakdown in the Primate Fecal Production Facility
Ok, have at it! Go Banananas!
More Cartoons Like This:
A web contest consisting of creating a caption for the above image. Two monkeys are conversing. One is pointing at what appears to be monkey droppings
Inspiration:

Inspired by Monkey Business, hijinx and other random silliness.