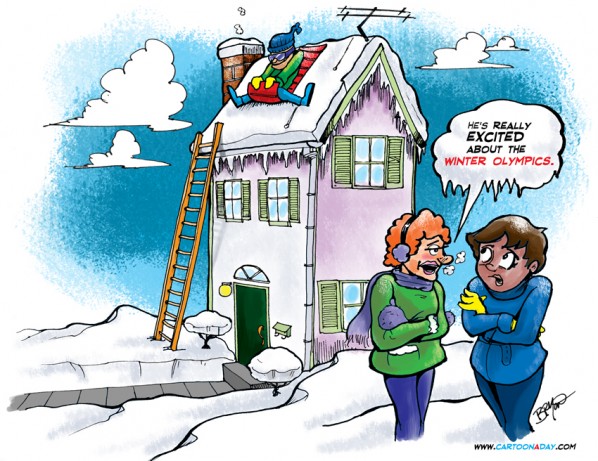 "He's REALLY Excited about the Winter olympics."
Olympic Roof Bobsleigh
Wow…okay..what's with me and snowy roofs? Two back to back posts about it. It must be Freudian somehow. Repressed childhood? Lack of snow in Las Vegas? I wish I knew. But it's Winter Olympics Time, YAY! I hear the midwest is getting hammered again with a few more feet of snow, and our weekend forecast for Las Vegas is nearly 70 degrees. I can't wait!
Anyhow, enjoy the cartoon, bundle up, enjoy your blizzard, and please don't attempt this dangerous stunt at home.
And if you're REALLY Excited abotu this Winter olympic Cartoon, download the desktop wallpaper here!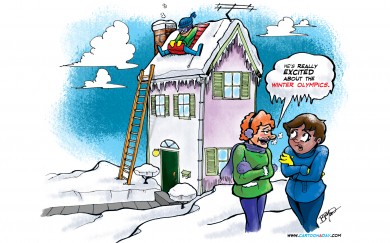 2010 Winter Olympics Wallpaper
More Cartoons Like This:
Describes a man so excited about the 2010 Winter Olympics that he is dangerously ready to launch himself off his snowy roof.
Inspiration:

Inspired by the upcoming 2010 Winter Olympics in Canada
Time:

Sketch and Ink: 30 Minutes, Color 30 Minutes