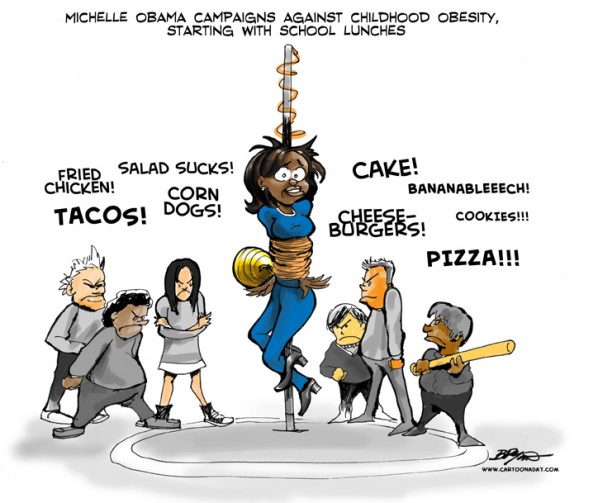 Obese Kids fight Back
President Obama's wife Michelle Obama has really dug into her campaign for Obese Kids. She appeared last night on the Larry King Show. She spoke out about a couple interesting issues, mostly about her huband's after hours habits, Sarah Palin, and Obese kids.
If I were an obese kid these days, I can probably look forward to more discrimination. Now all they need to worry about are the bullies, gym class and hot girls who STILL who't talk to them. I can foresee weight scales in the lunchroom lines and body mass indexes being taught in place of algebra.I hope I'm wrong.
Mrs. Obama plans to "eliminate food deserts, improve school lunches, and the last important 'pillar' is physical education".
Here's the larry King Interview.
I guess we'll just wait and see what Michelle Obama has in store for our Obese Kids.
More Cartoons Like This:
Describes how children may feel once they are further singled out, and discriminated as a whole due to obese kids in the school system. This is how they could feel and want to act out had they the chance.
Inspiration:

Michelle Obama and her Childhood Obesity Project, Larry King, and Sarah Palin