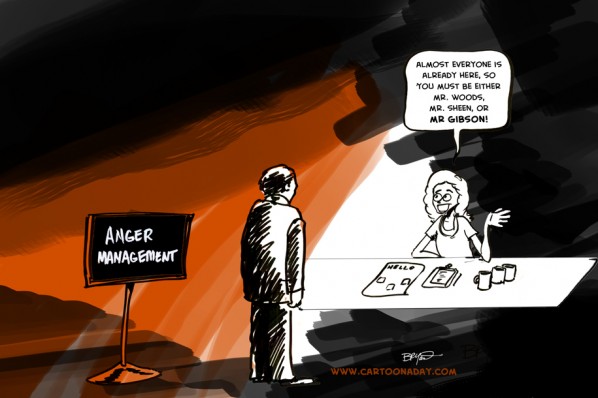 Mel Gibson Loses His Mind
"Almost everyone is already here, so you must be wither Mr. Woods, Mr. Sheen, or Mr. Gibson!
What is with super-rich, super successful, megastars and relationships that are so passionate they're explosive? I've done a few cartoon posts about Charlie Sheen and Tiger woods, but so far, this one is about Mel Gibson finally losing his mind and threatening his super-hot wife with death. Recently, audio tapes (allegedly) of Mel and his girlfriend Oksana Grigorieva arguing with each other have been leaked by who else but his girlfriend. I don't really think anyone gives a crap what happens to International superstar Mel Gibson or his hot, supermodel girlfriend Oksana Grigorieva…it's their baby, Lucia,  who will ultimately suffer the most.
More Cartoons Like This:
Actor Mel Gibson arrives for Anger Management Class. He is among other movie stars with anger issues.
Inspiration:

Inspired by recent silly and sad news