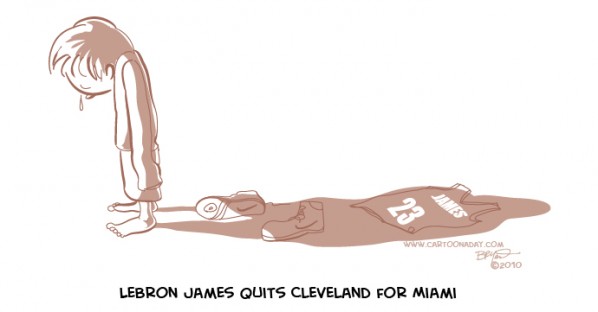 LeBron James Quits Cleveland for Miami
Fans are hurt about their superstar LeBron leaving town. James led the Cleveland Cavaliers to consecutive playoff appearances from 2006 to now. James was the focal point and leader of the team's offense. Everyone is suspecting the team will limp along without James, and feel let down. This basketball player is so badass that NIKE signed him a $90Million shoe deal before he ever played a single PRO Game. I think Cleveland should be grateful they had him as long as they did.
More Cartoons Like This:
LeBron James quit Cleveland
Inspiration:

A little boy appears sad, leaving behind him a trail of Cleveland Cavaliers and LeBron James Merchandise.