Marlboro Makers Sue China Websites Over Counterfeiting
It's true, Marlboro manufacturers Altria Group has filed lawsuits against seven China-based websites, alleging they sell counterfeit versions of top selling cigarette brands. Although this type of sneak attacks by Chinese companies goes on daily, this is the first time any lawsuits for cigarettes have been filed. Altria Group says the China websites are illegally shipping trademark infringing products, thereby violating Federal law. So once again, China is trying to kill our economy, while we're content with simply smoking cigarettes and killing ourselves. Read the full story here.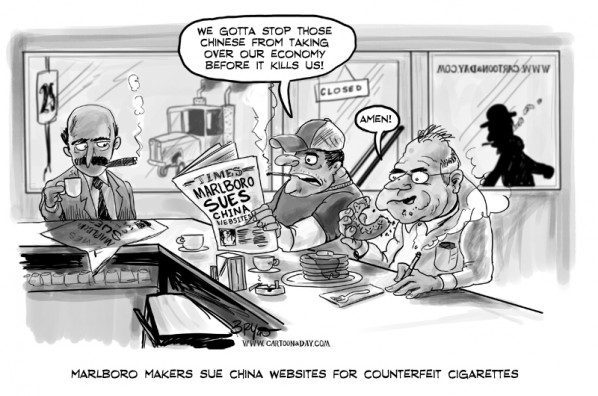 More Cartoons Like This:
Inspiration:

A funny cartoon of a diner scene, men eating and talking about Marlboro cigarettes in the news. The men smoke while they discuss world events.