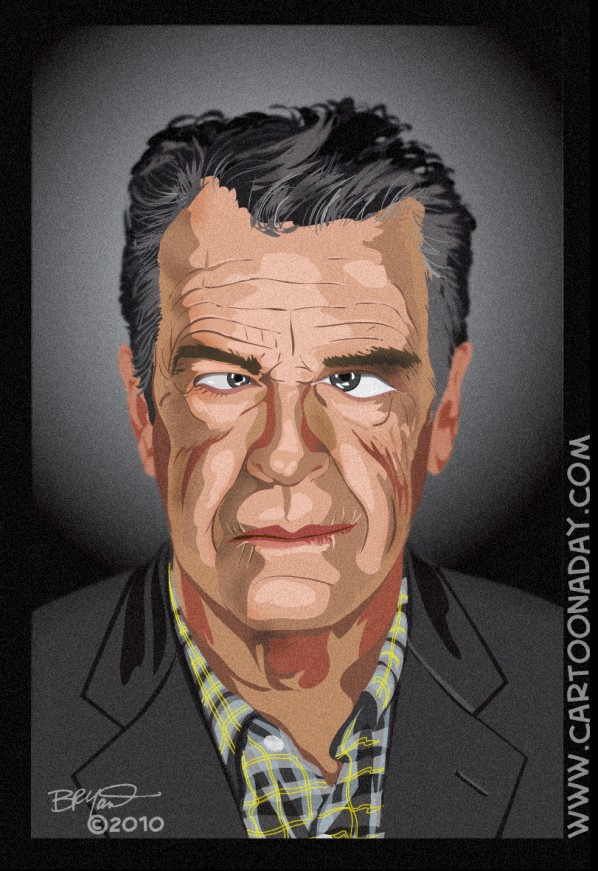 John Noble from FOX's FRINGE Portait
Today's cartoon is one of actor John Noble, currently starring on FOX's Fringe. You may also know him as Denethor in The Lord of the Rings: The Return of the King film. He's an awesome actor, and while watching the TV show I was inspired. He's crossed and slightly goofy, but I mean no disrespect! His face is so interesting, with the years of knowledge and experience embedded in them, that it was hard to stop with the detail. For most of us artists, our biggest problem is knowing when to stop. We tend to see every piece, no matter how many hours worked, as unfinished. I've been forcing myself, through DAILY cartooning, to create poignant images with the fewest strokes possible . . . making everything count as necessary. I'll whine more about that later. For now, enjoy!
I drew it entirely in Adobe Illustrator and a Wacom tablet. It looked fine, but I wanted to add a feathered Gaussian blur to create a shallow camera depth of field. I also threw a 3% transparent layer of noise on top to pull it all together.  I've also posted (Below) the unmodified Illustrator file.
John Noble – Fringe Cartoon – Original
More Cartoons Like This:
Inspiration:

FOX TV show Fringe and actor John Noble's portrait
Media:

Adobe Illustrator™, Adobe Photoshop™ from Press Photo of Mr. Noble.
Process:

See Above
Time:

90 Minutes