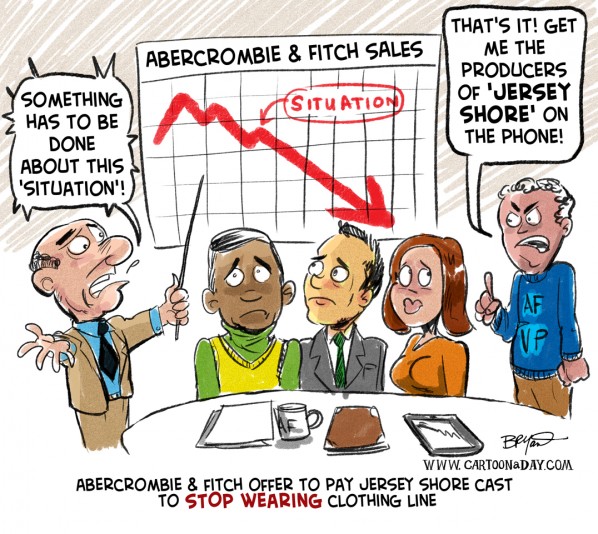 Jersey Shore and Situation Ruins Abercrombie and Fitch
"Abercrombie & Fitch offer to PAY Jersey Shore Cast to STOP WEARING Clothing Line!"
I read this article and nearly fell out of my chair from hysterical laughter. I don't currently own any Abercrombie & Fitch clothing, but because of this article I may run out and buy some now. This is how you send the appropriate message to the TV morons who eat away at the souls of impressionable young men and women. Adults aren't snowballed by the gym and laundry-loving Guidos and pretend people featured on MTV, but kids could be.
Abercrombie says the 'Situation' and the rest of the Jersey Shore gang could cause "significant damage" to the A&E Reputation. Well it's about damn time. It only sucks that the losers at Jersey Shore still get paid, just to stay away. Sad.
And oh yeah, Abercrombie & Fitch, make sure to Pull your Advertising spots from the Jersey SHore Hours. If you're sending a message, make sure it sticks.
Read the Truth here at USA Today.
More Cartoons Like This:
Inspiration:

Abercrombie & Fitch pays Jersey Shore cast to Stop Wearing it's clothing line. The situation may hurt the brand image.