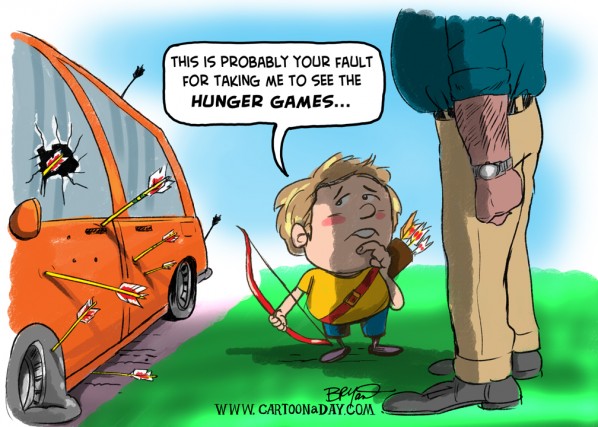 Hunger Games Drives Archery Sales Cartoon
"This is probably your fault for taking me to see the HUNGER GAMES."
Sporting goods stores around the country are reporting a 300% increase in archery equipment sales since the release of HUNGER GAMES. Pixar's animated feature 'BRAVE' this summer also features a bow-wielding heroine. The sure-to-be-blockbuster AVENGERS this summer will also feature Hawkeye, super-hero archer.
As an avid, lifetime archer myself, I can understand Hollywood's appeal to an Archery hero. ANYONE can point and shoot a firearm, but archery takes REAL skill, patience, and practice.
More Cartoons Like This:
A boy practices his archery skills on Dad's automobile. He cites an influence by the movie Hunger Games.