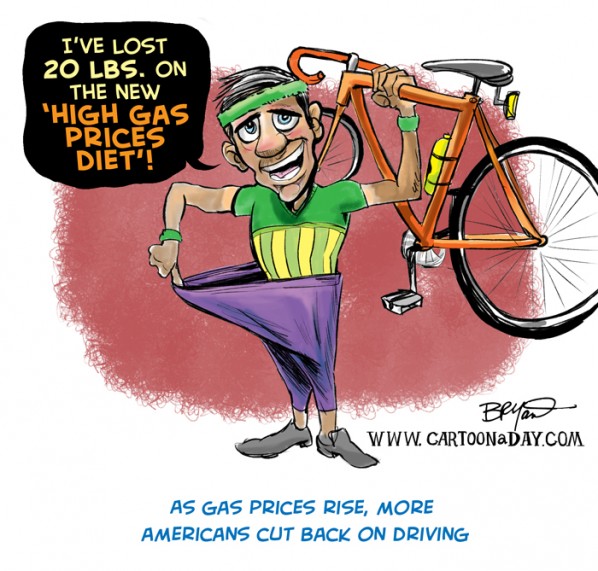 Gas Prices Rise, Americans Drive Less
As gas prices rise, more Americans cut back on driving.
"I've lost 20 LBS. on the New 'High Gas Prices Diet'!
As of today, gas prices in the U.S. average $3.77 a gallon.  Americans are steadily reversing the increase of demand for fuel, simply by driving less. Gasoline sales have been falling for the last five week-the sharpest drop in sales since summer 2008 (Gas was over $4 a gallon then). It's hard to understand how we're using less gasoline at the pumps while supposedly adding 200,000 jobs this year. maybe it's the elect car's fault. Some analysts say it will hit $5 a gallon, while others claim $4 is tops. The only thing that's truly clear: No one can know when and if gas prices will continue to rise and for how long. Hang in there, America. Now may be a good time to dust off the old Schwinn in the shed.
More Cartoons Like This:
Funny cartoon about what dieting and high gas prices have in common. The cartoon man holds his bicycle and his pants while describing his diet.