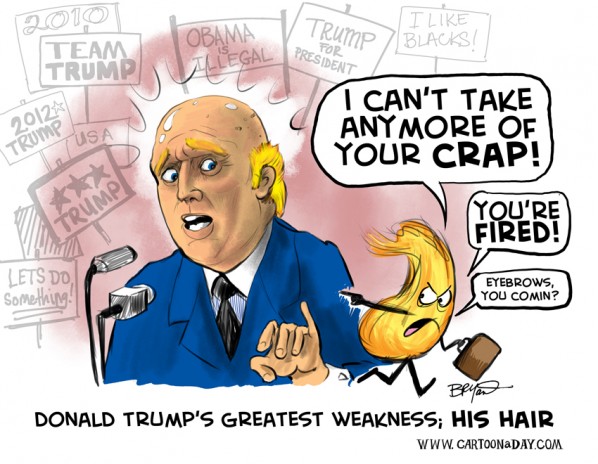 Donald Trump For President-Team Trump
"Donald Trump's Greatest Weakness; HIS HAIR"
Ever wonder what's behind the golden quaff on Donald Trump's head? He seems successful but he's repeatedly filed for bankruptcy. Is this the guy we want for President of the United States? In this cartoon, even his famous hair (possibly the most recognizable thing about Trump except for his attitude) has had enough. His hair is taking a walk and bringing the eyebrows along with him.
Painted on the Modbook
More Cartoons Like This:
Funny daily cartoon featuring a caricature of Donald Trump. Trump's hair has had enough and takes a hike.
Media:

Painted using Axiotron Modbook and Photoshop
Time:

Sketch: 20 minutes; Ink: 20 Minutes; Color: 20 minutes.