Chilean Miners Found Alive
What would you do with your time if you were trapped underground, in a mine, with 32 other men, for 66 days? That's right, it's happened in Chile. And for 66 days rescue workers have been drilling 3 separate rescue shafts simultaneously in an attempt to get the trapped miners out. One shaft finally broke through today, bringing up a note from one of the miners. The reports indicate all 33 trapped men are alive, and obviously ready to come home. The full story is here.
Also, I understand one fundamental flaw in this cartoon is that there can be no open flames in a mine for many safety reason, but hey, it's a cartoon.
And because I get asked…YES, I draw a cartoon every day, usually in the morning over coffee. Here's my iphone 4 snaps of this particular cartoon in progress. The paper is bright white 110# card stock, on a clipboard.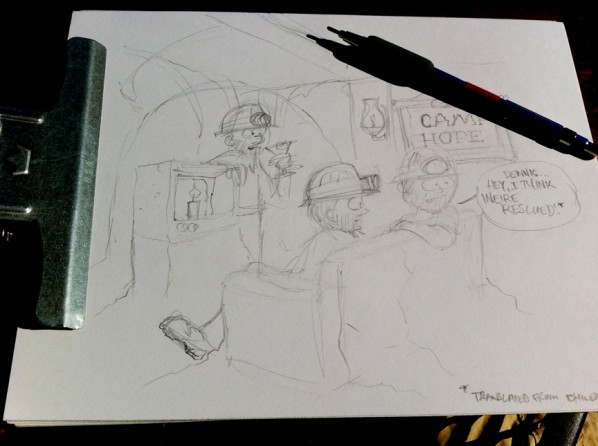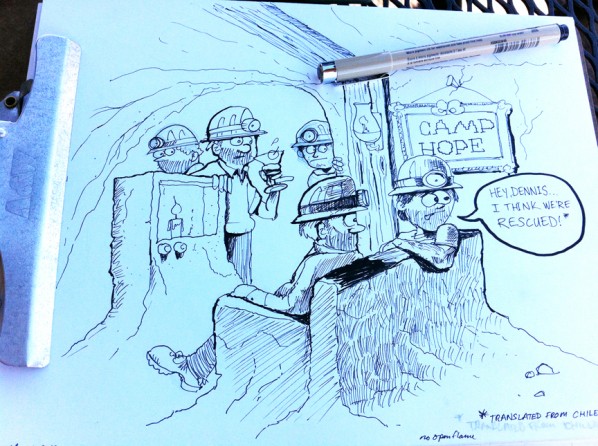 More Cartoons Like This:
Inspiration:

A cartoon featuring trapped Chilean miners, and what they did with their time for the past 66 days.