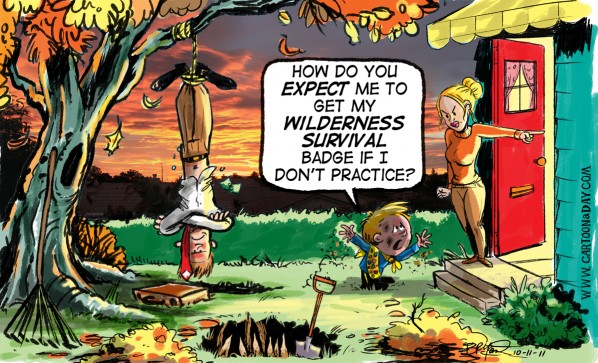 Boy Scouts Love the Fall and Mischief
Are you, or have you ever been- a BoyScout? I sure was, and it seems like we were most active during the Fall. I can't tell you exactly why I remember it that way, I just do.
"How do you expect me to get my WILDERNESS SURVIVAL Badge if I don't practice?"
This little Boy Scout / Cub Scout has his Father hanging upside down in a trap from the family backyard tree. Mom doesn't appear too happy.
The BOY SCOUTS of America 2011 Indy Car Season wraps up with its final races this Sunday in LAS VEGAS. Here's their Facebook Link.
More Cartoons Like This:
A Boy Scout cartoon features a Scout practicing his Wilderness Survival Badge. Mom isn't happy.