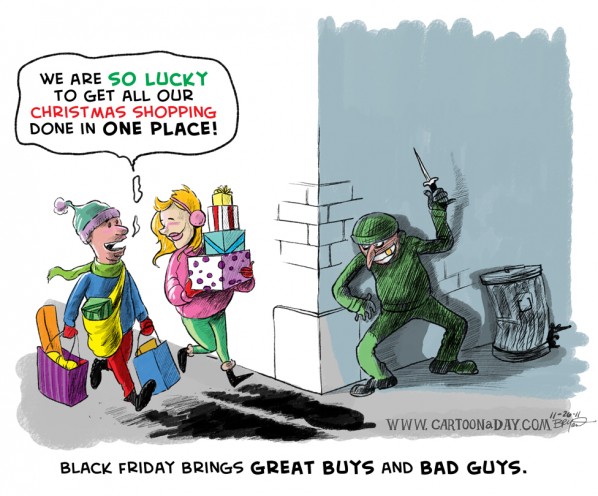 Black Friday Steals Cartoon-Great Buys Bad Guys
"We are SO LUCKY to get all our CHRISTMAS SHOPPING done in One Place!"
Black Friday Brings Great Buys and Bad Guys.
It seems the economy isn't the only pains enhanced by a bad economy. Black Friday has already resulted in criminals taking advantage of savvy shoppers. A California man was shot in Walmart when he resisted TWO ARMED MEN trying to steal his purchases. In South Carolina, Walmart shoppers were robbed at gunpoint in the parking lot. Police have used pepper spray on frenzied mobs and it's getting worse.
Is being first in line for the Door-buster sales worth your life? Pay attention, be aware of your surroundings and don't be a victim.
Read more on the Wal-mart holiday madness here at USATODAY.
More Cartoons Like This:
A happy couple returns from Christmas shopping, arms full of gifts. In the shadowy alley lurks a knife-wielding thug.