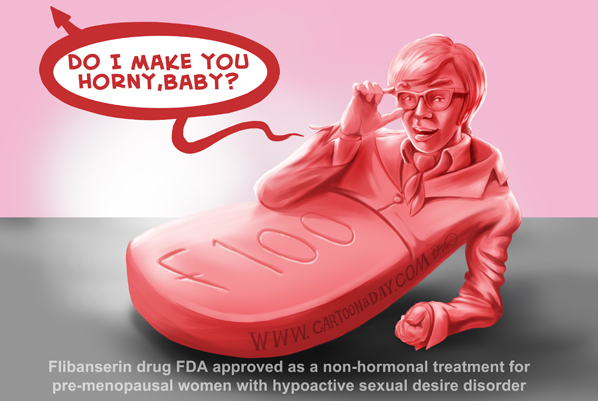 Women's Viagra Now Approved
Flibanserin drug FDA approved as a non-hormonal treatment for pre-menopausal women with hypoactive sexual desire disorder.
Ok, here's the short-short version of this new drug nicknamed 'Women's Viagra'. Firstly, VIAGRA for men affects a man PHYSICALLY. Filbanserin affects a woman MENTALLY ( Emotionally). VIAGRA you take when needed, Filbanserin you take daily, at night, on a full stomach. SIDE EFFECTS: Viagra–An embarassing trip to the E.R. to remove blood from your Man parts… Filbanserin—Causes a dramatic drop in blood pressure resulting in unconsciousness.
More Cartoons Like This: