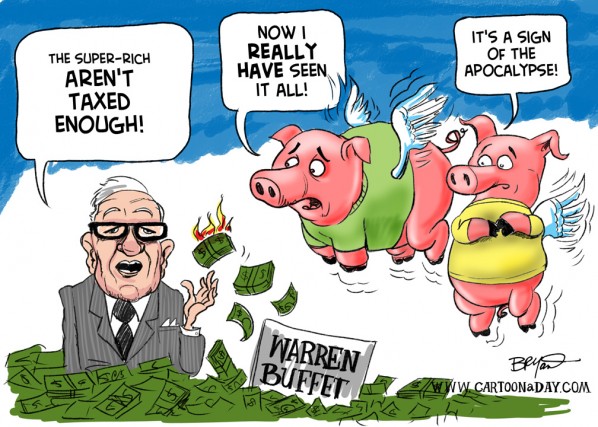 Warren Buffet Signals Apocalypse – Cartoon
"The Super-Rich aren't TAXED ENOUGH!"
"Now I really HAVE seen it all!"
"It's a sign of the Apocalypse!"
We've all heard the saying "When pigs fly!". WEll, it looks like pigs ARE flying when one of the richest men in America- Warren Buffet, publicly claims the super-rich class of millionaires and billionaires aren't being taxed enough. Buffet seems to be betraying his own kind, shouting for tax reform that scales better with income. He's right, of course, but we never thought we'd hear it from the mouths of the upper-upper class.
More Cartoons Like This:
Inspiration:

Funny daily cartoon featuring tax reform for the super-rich class of Americans. Warren Buffet is very outspoken about Rich tax.