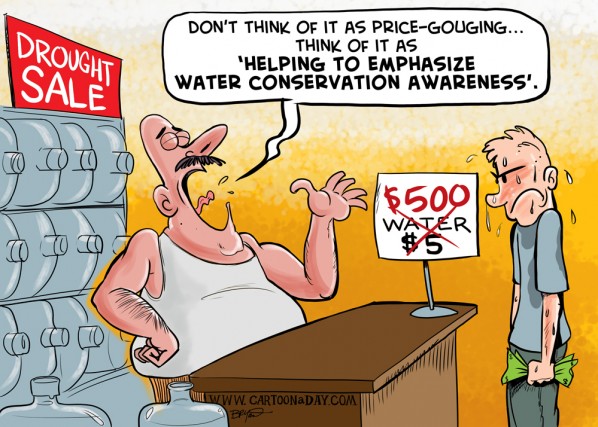 US Drought-Water Shortages Cartoon
"Don't think of it as price-gouging…think of it as 'helping to emphasize water conservation awareness'."
Our Nation is still suffering through the worst drought in 50 years. In addition to a weak harvest and dying crops, towns in Texas are in real danger. Towns all over the country are starting to buckle down and restrict water-related activities such as swimming pools, closing golf courses and parks, and no lawn watering at all. One Texas town estimates it has less than a year's worth of reserve water on hand.  Similar stories keep popping up from Oklahoma, and Kansas. Expect it to get worse before it gets better.
In this cartoon a water store owner is taking advantage of the supply-demand dynamic. Price Gouging, although usually local and short- term, is illegal. Don't let profit-hungry middlemen take advantage of your crisis.
More Cartoons Like This:
A cartoon price gouger tries to take advantage of a water shortage crisis.