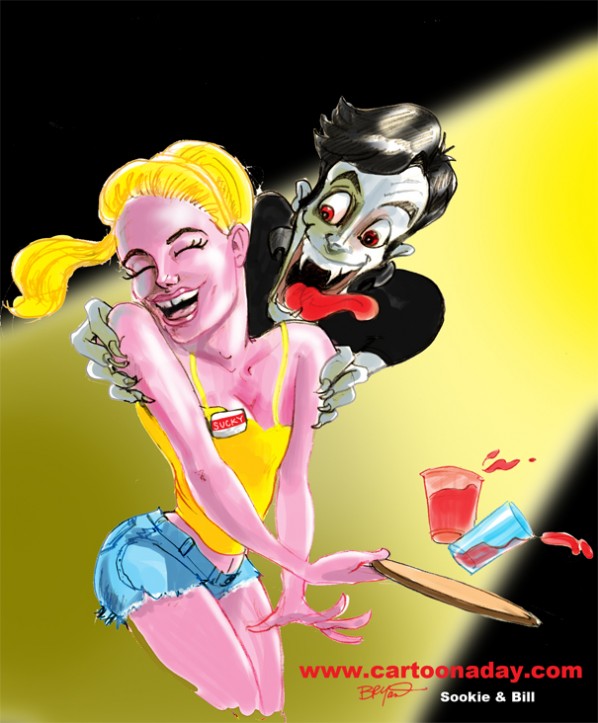 Sookie and Bill from TRUE BLOOD
This may be the first time you've heard the name "Sookie" or "True Blood", but you'll hear it alot soon I'm sure. Caught up in the recent wave of Vampire fiction, Sookie is the main protagonist originally from a series of paperbacks around 2001, now 'back from the dead" becasue Vamps are in Vogue. I believe "sookie" is a diminutive of Susan or Susanna, not that it matters, but it's an uncommon name. NOT TO BE CONFUSED with Snookie of New Jersey Fame..
Anyhow, this is a quick sketch of Sookie and Bill, nothing fancy or detailed or even accurate. Sitting at coffee and forgotten my phone for research, this is what I remember Sookie and Bill to generally look like. If you can't place her face, this is True Blood Cast  Sookie Stackhouse-  Anna Paquin (Also Rogue in X-Men) and Bill Compton – Steven Moyer (A relatively unknown actor).
They announced the COMIC version of True Blood at Comic Con in San Diego this week…which is where you'll want to turn for the REAL art of the matter.
More Cartoons Like This:
A cartoon caricature of Sookie Stackhouse and Bill Compton , the cast of HBO's True Blood. Bill looks at Sookie's neck hungrily-thirstily.
Inspiration:

Inspired by the resurrection of Vampire fiction, and vampires themselves. Hope you like werewolves.