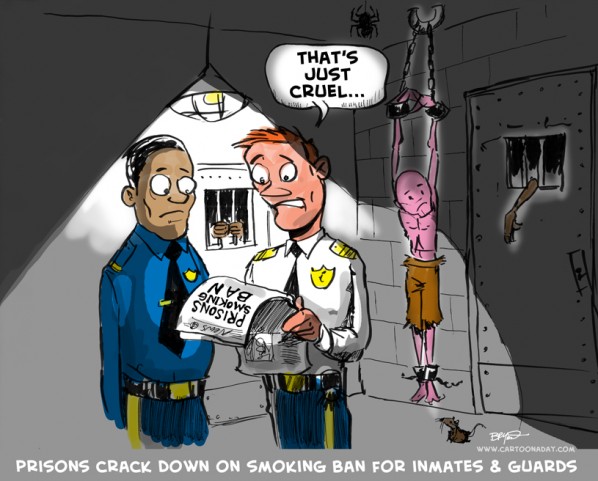 Prisons crack down on Smoking Ban for Inmates and Guards
Who woulda thought…taking away a person's freedoms, in PRISON of all places? It seems more prisons are moving this direction due to rising costs of treating illnesses due to smokers, smoking and second hand smoke. Reports are that inmates have become "testy" and "aggravated" . (Oh dear). It's probably for the best. A life sentence has so much more meaning when you're healthy enough to prolong it for many more years because you quit the smoking habit.
Here's a USA Today story on it as well..
More Cartoons Like This:
Two prison guards stand in a dungeon reading a newspaper. Behind them are prisoners, one chained to the ceiling. The comment on smoking ban.
Inspiration:

Inspired by News of the Prison smoking ban, prisoners who can't smoke, and other ridiculousness
Media:

Pencil, Pen, paper and a scanner
Time:

30 minutes