Prince William Wedding to Kate
"Straighten up, William! The World is watching you!"
Prince William of Wales has finally announced his Marriage to long time sweetheart Catherine Middleton. They're set to be married April 29th at Westminster Abbey in London, England. The Wedding of the Prince and Kate will no doubt be a media circus and one of the most watched television events in history. Everyone loves a storybook wedding of a handsome Prince who's in line for throne of England.  And Kate Middleton is possibly the most beautiful, available woman in England so William should have nothing to complain about. Kate has had some difficulty in the past dealing with the press and photographers, but the situation may only worsen when she becomes an actual Princess. In this cartoon, Catherine is getting all the attention.
If you're interested, Prince William and Kate have their own wedding website, found here: Official Royal Wedding.
…and here's the cartoon with Kate in the BLUE DRESS she's commonly photographed in.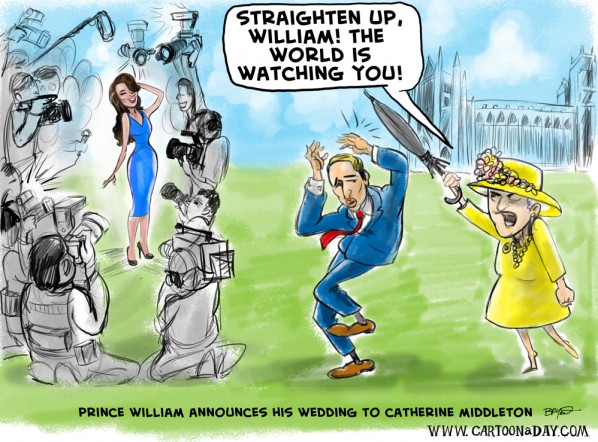 More Cartoons Like This:
Inspiration:

Editorial cartoon featuring the Royal Wedding of Prince William and Catherine. Nearby, the Queen of England scolds William.