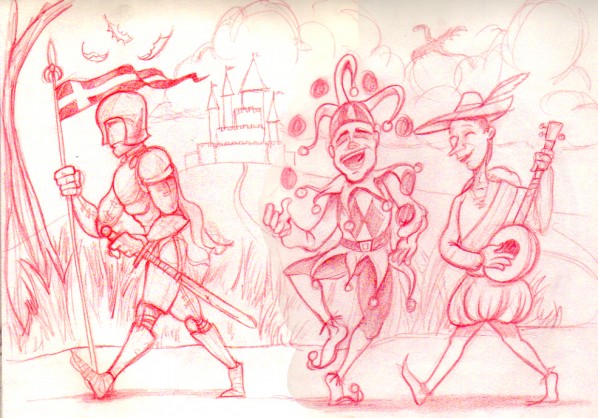 Paladin On Parade
Suitable for experimentation in Corel Painter or Photoshop.
I'll upload more versions as I continue. By the way…where's he off to? (To storm the castle, joust with the dragon, and save the damsel I suppose).
UPDATE:
Here's another step in the Coloring of Parade Knight Cartoon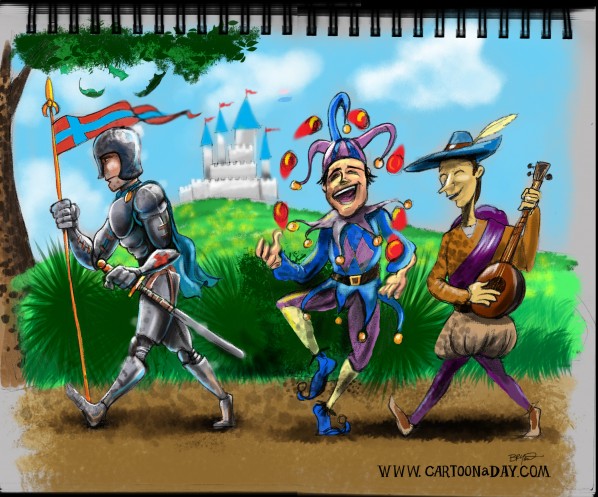 In this painting is a Knight (a Paladin) a court jester and a traveling minstrel. Enjoy
More Cartoons Like This:
A knight in full body armor holds a flag and marches off. The knight has a serious look on his face and has a tight grip on the handle of his sword. He is followed by his party which includes a court jester who is smiling happily, dancing, and juggling. The third member of the party is the minstrel who is also smiling, and playing a lute or guitar.
Inspiration:

World of Warcraft paladins.
Media:

Red pencil on sketchbook.
Process:

Sketched, scanned at 300 dpi.