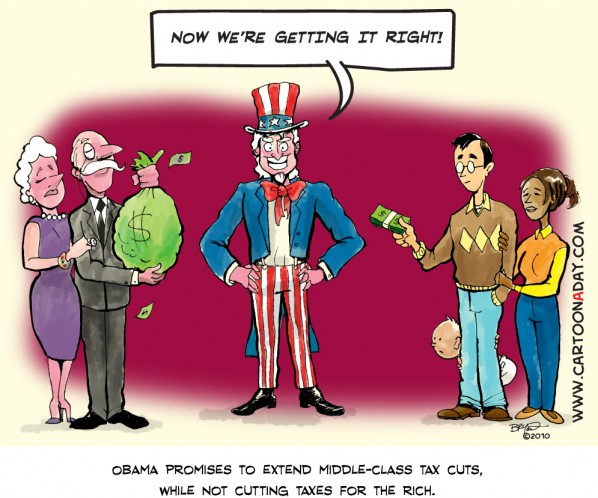 President Obama promises to extend middle-class tax cuts, while not cutting taxes for the rich.
Now We're getting it Right!
Could it be that easy?
In his State of the Union Address, President Obama promises to give more tax cuts to the rest of us, and fewer to the rich. I do beleive I've heard this all too many times before. I've drawn the cartoon as a reminder…to come back to it in a year and see if he held to his promise. Meanwhile, I'll enjoy the warm feeling in my tummy that things really will be all right soon.
Here's what Obama said in his State of the Union Address:
We will continue to go through the budget, line by line, page by page, to eliminate programs that we can't afford and don't work. We've already identified $20 billion in savings for next year. To help working families, we'll extend our middle-class tax cuts. But at a time of record deficits, we will not continue tax cuts for oil companies, for investment fund managers and for those making over $250,000 a year. We just can't afford it.
And because I often get the request, here's a snapshot of the Photoshop Brush setting I used to simulate watercolor.Normally, I just prefer ACTUAL water color, but this was on the road.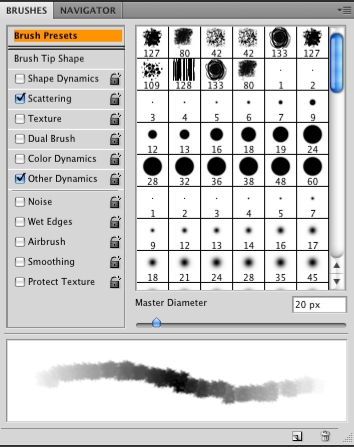 Photoshop Brush, on NEW LAYER>MULTIPLY.
Enjoy!
More Cartoons Like This:
Trying to describe happy feelings that Obama's promise for tax reform is coming.
Inspiration:

President Obama's State of the Union Address
Media:

Pen on Paper, scanned
Process:

Once scanned, opened in Photoshop and colored using the sample brush on multiple layers.