Nascar Great Tony Stewart Drives Taxi Cab in Las Vegas
NASCAR Weekend in Las Vegas means crazy warm-up stunts by the drivers and teams of NASCAR. A friend of mine turned me on to Tony Stewart, the bad boy of NASCAR, who's up to shenanigans on the Las Vegas Strip. Apparently, this morning, Tony Stewart is due to drive a modified real racecar down the Strip with David Copperfield and Elvis (an Elvis Impersonator). And since Charlie Sheen has his recent public meltdown, or whatever it is, I've thrown him in the cartoon-caricature for good measure. Sheen is no stranger to Las Vegas.
In this cartoon is Charlie Sheen-caricature, and Tony Stewart-caricature. Tony is driving a taxi-modified NASCAR.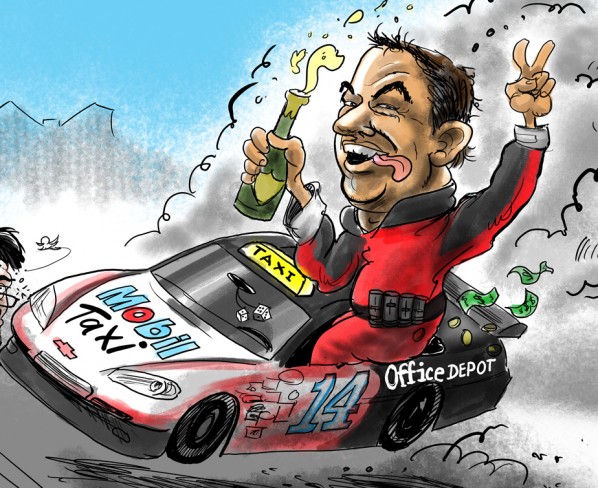 More Cartoons Like This:
A cartoon caricature of NASCAR driver Tony Stewart. Steward drives the Las Vegas Strip in a modified racecar.