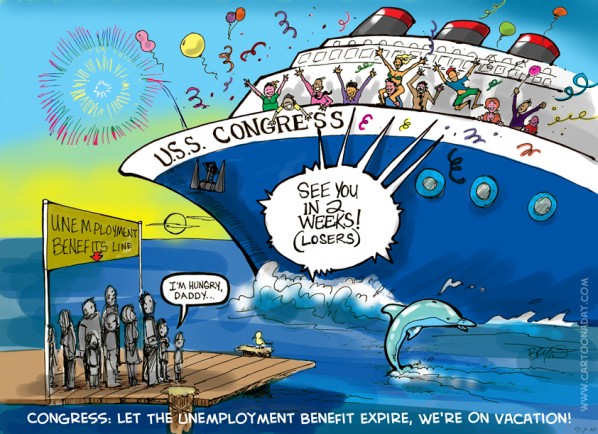 Congress Doesn't Care About Unemployed, They're on Vacation
Almost too insincere, inappropriate, irresponsible and insane to be true; But it is. Congress actually left and took a 2 week vacation (Spring Break) before voting on the Unemployment Benefits extension. So what's that mean?  It mean a couple hundred THOUSAND people will be stranded for a couple weeks with absolutely no income or jobless benefits. As we all know, Americans depend on that assurance that every working citizen earns when they've been laid off.  The benefits they've counted on so their families have a roof and food while they search for more work is on hold.
Thanks, Congress. I can't remember the last time I've felt so bad for being American. I wonder if Canada is hiring?
More Cartoons Like This:
A Cruise Ship named "U.S.S. Congress" pulls out of dock with streamers, balloons and a party atmosphere. Unemployed Americans are left alone.
Inspiration:

Inspired by lack of leadership, ineffective congress, unemployment benefits, and canceled dreams.