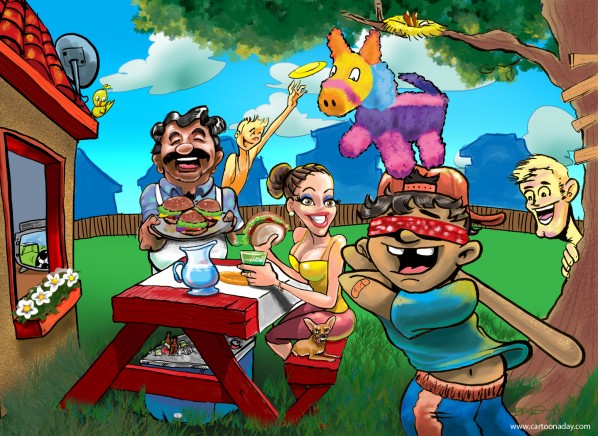 Cinco de Mayo Backyard Party
Yep, May 5th is coming up, and do you have plans yet? It's becoming more and more of a tradition for Americans to use this excuse for a beer drinking day off. Just don't pretend you know anything about the Cinco de Mayo Celebration. For instance, it is  not, as many believe, Mexican Independence Day. Look it up if you don't believe me. It's in celebreation of Mexico standing up to an Invading French. Mexico was later pummeled into submission, but the party still stands. So now's your chance to legitimately swing at a pinata and swill some margaritas on a Wednesday without sounding like a lush.
This illustration is for the magazine I work with. It took a few days off and on. I originally wanted to do a Groo-esque (Sergio Aragones-like Spread involving hundreds of party bodies) but time and budget wouldn't allow.
And for my fellow artist and designers….here's what the layout in the Magazine looks like:


Cinco de Mayo Magazine Spread

And finally the rough draft that didn't make it. (I'm also the Creative Director so it was really my call. It's hard to devote so much time to one illustration when you also have to produce a working Magazine).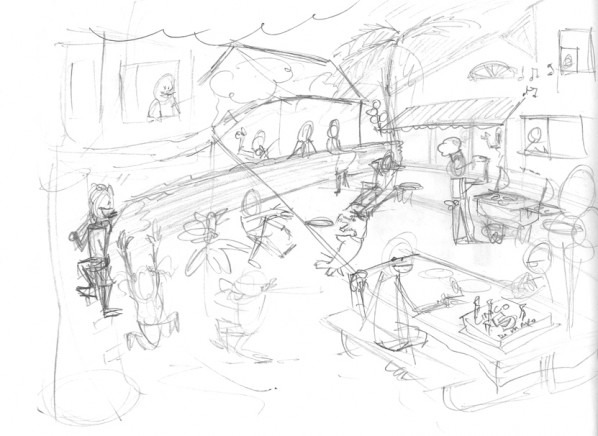 More Cartoons Like This:
A family enjoy a party in the back yard. A boy swings at an overhanging pinata while everyone else is having a great time.
Inspiration:

Inspired by taco bell dogs, Mexican Holidays, and the coming of Summer in Las Vegas