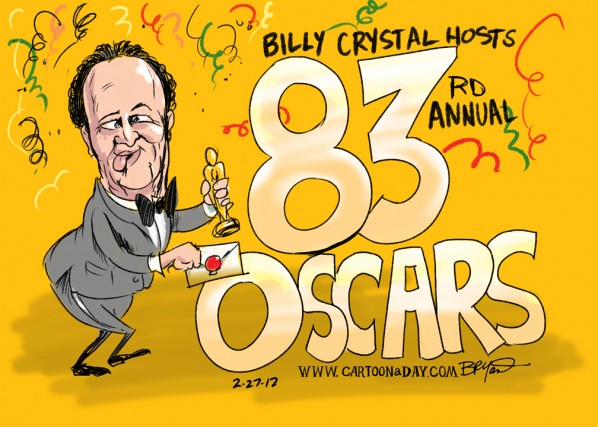 Cartoon Billy Crystal Hosts Oscars
After an 8 year hiatus, Comic Great Billy Crystal came back for the 9th time to host again the 83rd Annual Oscars event. Billy Crystal, the comedic genius seemed to lack much of the luster of other performances (critics say). Crystal stepped in and rescued the show after Eddie Murphy reported bailed on the event as host.
A small recap or the 2012, 83rd Oscars:
Best Picture: Winner: The Artist (Thomas Langmann, Producer)
Actor in a Leading Role:Winner: Jean Dujardin (The Artist)
Actress in a Leading Role:Winner: Meryl Streep (The Iron Lady)
Directing:Winner: The Artist (Michel Hazanavicius)
More Cartoons Like This:
Cartoon featuring Comedian Billy Crystal hosting the 83rd Anual Oscars. This was Crystal's 9th hosting of the Oscars.