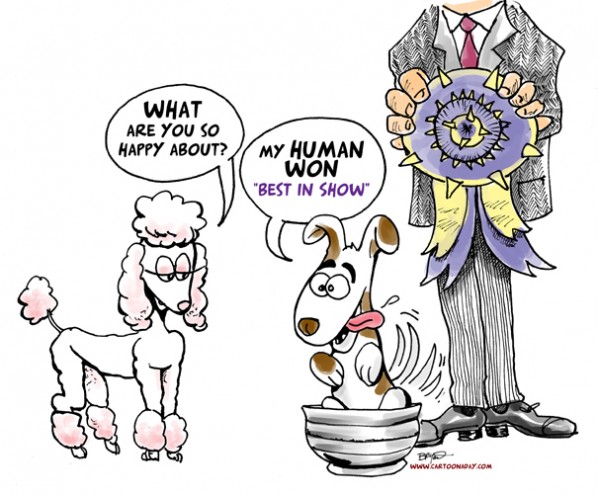 "My human WON 'Best In Show' "
It's time again for the World Famous Westminster Kennel Club Dog Show at New York's Madison Square Garden. As you may know the event is the annual culmination of the human / dog sport and their crowning achievement. But what must the dogs think of all this? While watching / listening out of the corner of my eye I heard 2 thousand handlers and owners bring in 1,000 dogs for the 2-day event. It happens every year on February 15-16. Today's post is the morning of the final show day. If you're still Lost watching LOST, had enough of the Winter Olympics or your Tivo is played out, give it a look see.
Dog show cartoon, Poodle cartoon, cute dog cartoon
More Cartoons Like This:
Lets hope this year the dog is small enough to fit in the bowl (awwwww, cute). Best in Show!
Inspiration:

Westminster Kennel Club Dog Show, Best in Show and silly but expensive things to do with your mutt
Time:

Pen : 15 Minutes, Color : 15 Minutes Posting: 300 Minutes (haha)