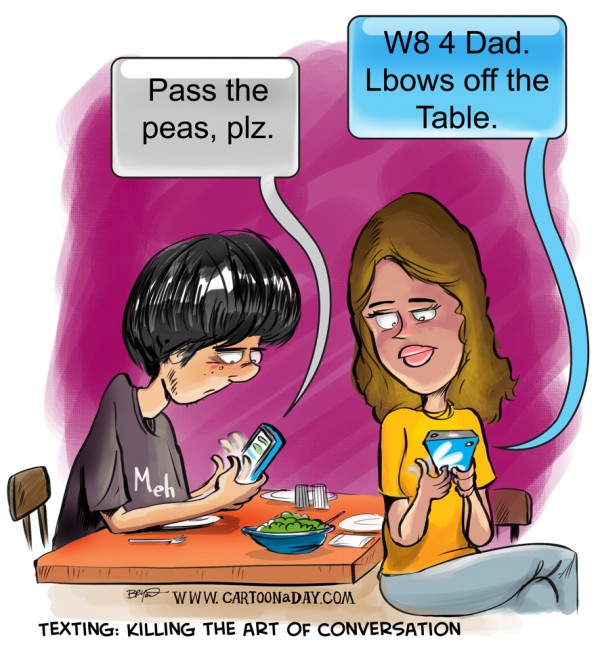 TEXTing killing the Art of Conversation
"Pass the peas, Plz."
"W8 for Dad. Lbows off the table."
Could texting be killing the art of conversation? Will Man evolve without mouths? These questions and more are roughly answered by studies and surveys, but only your own household really knows. Do you text family members in the same house, rather than getting up to speak face to face?
For many, the problem is worrisome. Teens surveyed would, more than not, rather text than talk. They also feel VOICEMAIL to be a thing of the past, rarely using their phones for talking. Could this spell disaster for the next generation? Will our children have the necessary skills for business meetings, negotiations, or public speaking?
Most of the proponents for digital communication say it's not a problem, quite the opposite. They claim texting and email, and shared videos keep our circle of friends constantly updated, and communicated with. Perhaps, but how deep is that communication?
As a painter and artist, my entire life has been a visual communication, a texting of sorts. My aim is to communicate thoughts, feelings, emotions, et al through a single image. I hope that the viewer is moved to thought or action. HOWEVER, it may take hours, days, weeks or more to compose and create a single illustration worthy of such contemplation. Texting barely requires thought. Does the texter hope the textee understands all the implied thoughts and feelings which are hopefully conveyed?
I think not.
Here's an article the AP wrote today on the subject.
More Cartoons Like This:
An emo kid texts with his mother at the dinner table.