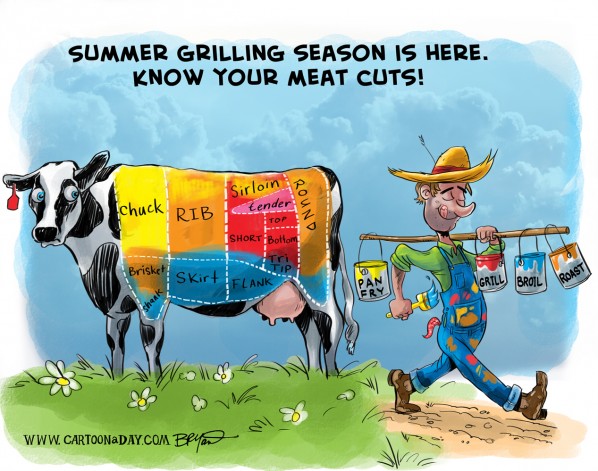 Summer Grill Cow Meat Cuts Cartoon
Summertime is approaching and if you haven't started already, grilling season is here. Do you know your meat cuts? This happy cartoon farmer has painted his cow in preparation for the perfect grilling. The different colors he's painted on help remind him how to cook which cuts.
Here's a quick guide on how to perfectly prepare your choice meat cuts. Save this image to your mobile phone for handy grocery store reference.
YELLOW is for Pan Frying or skillet
RED is for Grilling
BLUE is for Broiling
ORANGE is for Roasting
And subtle blending of colors means both (ie. Grilling or Broiling)
The happy farmer carrying 4 colored buckets of paint has just painted his black and white angus cow. The pasture is green and the sky is blue.
More Cartoons Like This:
A funny cartoon farmer paints his cow in the colors of meat cuts and how to cook them.