More Random Caricatures!
Okay, so I know I need practice. So that's what I'm doing…True caricatures are something I find difficult to do properly. Either I want to be too nice to my subject, or I'm too harsh. There's a balance which must be struck between reality and the absurd. Caricatures exist to fill an illustrative need. If the subjects wanted realism, they'd get a photograph. Also we use them to create likenesses for satire and political cartoons. The folks over at MAD Magazine have used them almost exclusively to bring joy to our hearts and tears to our eyes. But for me, at least, caricatures are a tricky business and not for the faint of heart. I keep looking to the masters in the field but that's tough too. The greats in caricature have their own style which they've developed over years. If I use their work as my instruction, I may seem like a cheap knock-off. But I think caricature is something I need to understand better.
I've been a cartoonist my entire life. Cartooney versions of people, celebrities, sports figures and politicians aren't really true caricatures. They're satirical or comical drawings, most people refer to as cartoons. People ask me what my hobbies are and I say "cartoonist", and they ask me what the heck that is, or imagine I draw Family Guy animations.
Figure drawing I understand. I've practiced figure drawing nearly every day of my adult life, in one form or another. But as you can see, caricatures are another ball game. I'll keep the practice up and let me know what you think. My door and ears are always open.
-BRYant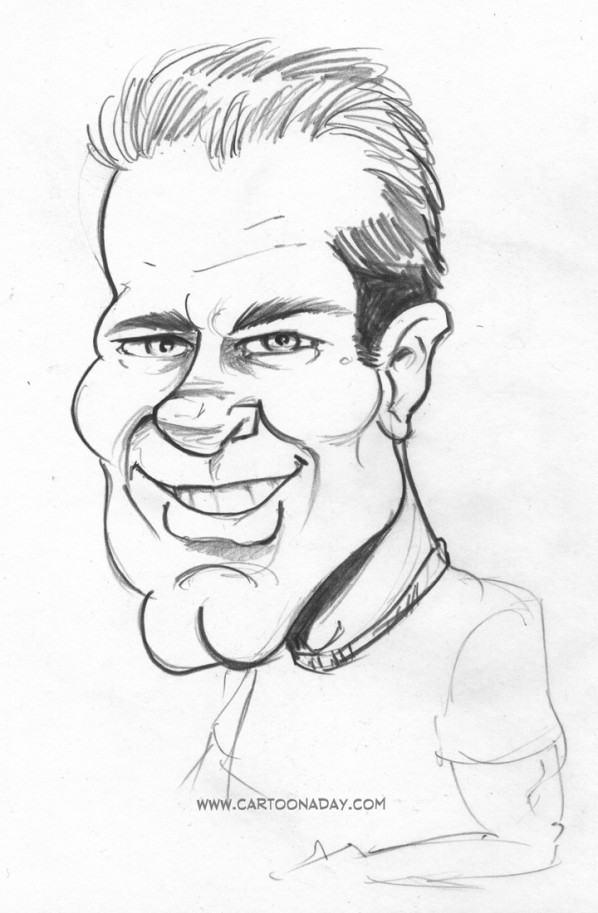 Here's a caricature of my buddy Tom. Took me about 10 minutes of doodling and what you see here is the doodle from blank paper to "finished" pencil sketch. It's obviously not quite a "finished" work, but here you have it.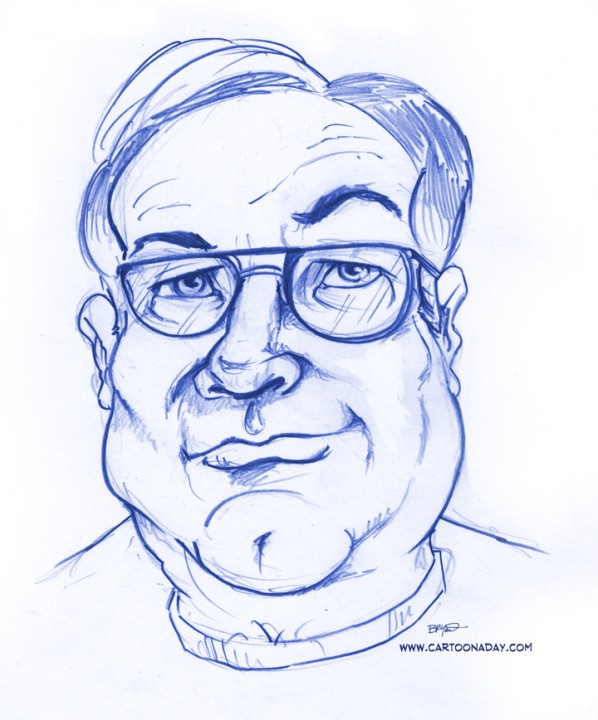 And now for my Buddy Jim. Again, straight pencil, no eraser. Jim's a programmer friend of mine and I have yet to find out if he thinks it's a compliment or an insult. Again, Jim (Buddy), I'll get it eventually. I used Photoshop to adjust the hue from grey to blueish. It now reminds me of the days I'd draw through carbon paper and run eagerly to the teacher's lounge to run off a hundred copies using the one and only mimeograph machine in the school. This was back in the early 80's. Copiers were new and too expensive for schools and Personal computers and printers were still only a dream.
More Cartoons Like This:
Sample caricatures or random people and friends. The caricatures are practice artwork of Bryant Arnold
Inspiration:

Inspired by a friend's advice and constant cartooning caricatures.