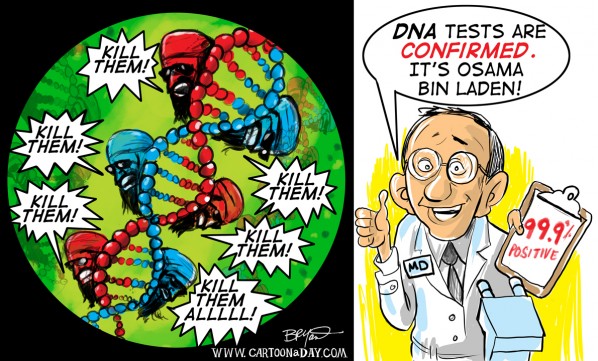 Osama Bin Laden DNA Proof
"DNA Tests are CONFIRMED. It's Osama Bin Laden!"
By now you've head Osama Bin Laden was killed last night in a raid on his compound in Pakistan. Bin Laden's body was buried at sea, instantly sparking rumors and conjecture that he may still be alive. Washington confirms multiple means of DNA testing on the Bin Laden's body before burial in the North Arabian Sea from aboard a U.S. Aircraft Carrier.  Under the microscope, it's easy to confirm Osama Bin Laden's DNA.
More Cartoons Like This:
Inspiration:

Funny daily cartoon featuring the DNA confirmation of Osama Bin Laden. Bin Laden was killed and buried at sea.